Joined

Nov 29, 2018
Messages

176
Location
This is probably a longshot with how niche collecting RS/6000 seems to be, but I'm currently trying to track down one of the POWER series graphics adapters for my RS/6000 7011-250. Specifically I'm looking for the version that was designed to slot directly into the 7011's system board (pictured below) instead of using one of the system's two expansion card slots.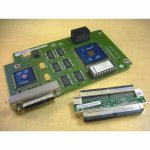 In my case, I'm looking for either the GXT-150 (P/N 51G8092) which would be preferred, or the GXT-100 (P/N 51G8070). I would also need the shown riser as well (P/N 8184016).
If anyone happens to have one of these adapters laying around then please, send me a PM!