Joined

Aug 4, 2015
Messages

44
Location
My son recently acquired a Z-90 that would start-up, but only displays a cursor, no H: prompt. Seems like the CPU board is not starting. A quick tear down and right away here's a problem, blown tantalum cap and lifted traces all the way back to the power input on the +12V area of the CPU board.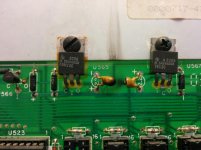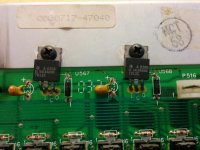 Looks like this guy had the same problem.
http://www.retrotechnology.com/h89/h89_1.html
Maybe the traces are undersized, heat up, lift, and then short to ground? And/or those 20V tantalum's on an 18V line are cutting it a little close (should be derated more)? Anyways, new parts ordered, cut away the old traces, nice beefy wire patch on the backside, and both regulators are now showing +12V.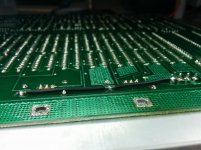 Still no boot though. Checking the -12V regulator (U565), it's zero volts on both the input and output. Pull the plug between the terminal and CPU boards, and -12V and GND are shorted on the terminal board. Trace it back through a couple of caps and it looks like C411 is shorted internally. More parts ordered, now we wait again.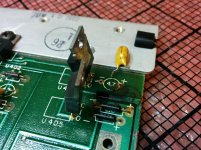 I have the service manual, but not the schematics. Anyone have a copy of these?
Edit: Found of complete set of schematics tucked away in one of the other application manuals that came with computer.
Last edited: