Joined

Jul 15, 2010
Messages

732
Location
Zeta SBC is an easy to build Z80 computer, that I've designed this summer. It was pretty popular on N8VEM list and I sold out all the PCBs. Now I am considering to reorder PCBs. Perhaps people on this forum will be interested to build this system? (If yes - reply to this post
)
Here are the specifications:
- Small form factor (170 mm x 100 mm, 6.7" x 4"), can be mounted under a 3.5 floppy drive.
- CPU: Z80 (tested with NMOS and CMOS versions, up to 20 MHz, 6 MHz is required to support 1.44MB floppies)
- Memory: 512 KiB SRAM (system + RAM disk), 512 KiB flash (BIOS, CP/M, ROM disk)
- 8255 PPI. Can be used to connect an IDE hard drive or CF card using PPIDE, or for generic I/O
- 16550 UART - Console serial port
- FDC9266 floppy disk controller, supports common (that is IBM) diskette formats.
- RTC
- Runs CP/M 2.2, ROM images are available from N8VEM Wiki
More documentation is here:
http://n8vem-sbc.pbworks.com/w/page/44366173/Zeta SBC
Update:
Tentative prices: PCB - $20, FDC9266 - $5, Shipping (one PCB and FDC - USPS First Class mail, no tracking) is $2 in US and $5 anywhere else.
Thanks,
Sergey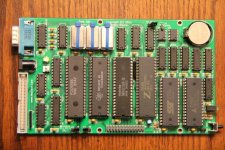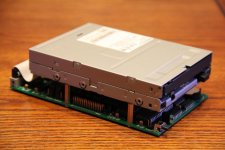 Last edited: