Joined

Nov 10, 2019
Messages

67
Location
Greetings -
So, I drove an hour for a Facebook market posting showing an IBM 5155.
When I got there in person and powering it on... the floppy drives were not reading. He said, "oh... I have another one" ... so we powered that one on and the monitor was dead but I could hear the floppy drives reading... well, long story short, I made an offer for both (not knowing he had two) and left with both! :crazy: He said when he moved into the house, he and found them in the attic - and thought they were suitcases at first (both in their zippered carrying cases).
LUGGABLE 1
--------------
The one that wasn't recognizing the floppy drives didn't have a screw holding the card in, so somehow it was loose. Pop it back in... all appears to be in good working condition... computer, screen and drives.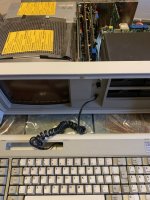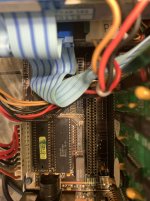 LUGGABLE 2
--------------
The built in monitor is just dead... no flickering, no images, no signs of life whatsoever... but hooking up a TV shows the computer and drives are also in good working condition.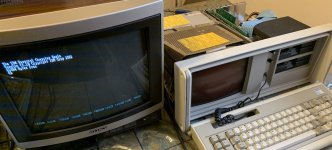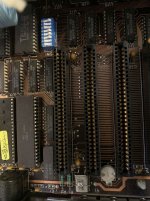 So, a few questions...
1) Are there any troubleshooting methods for the dead monitor? I'm definitely not qualified to go digging around in CRT guts.
2) Are there any quantifiable differences between the two motherboards and processors? (pictured above: one Intel branded CPU with white switch box and the other NEC branded CPU with blue switch box)?
3) Lastly, any advice overall is certainly welcome.
Thank you for your time and help!