Hi,
I've got a /// that won't boot. Symptoms: I flip the switch, and (if cold-booting after it's been off a while), the screen tries to sync - all wavy and such, for about 20 seconds and finally stops as seen in the attached photo. Subsequent boots jump right to the same screen.
I can do a CTRL-Reset about three times with the same result. On the 4th try, it won't even reset.
Here's what I've tried:
* viewed with composite monitor and a IIgs RGB monitor. Same picture, although that IIgs monitor is really sharp!
* has a 256 5v memory card - replaced all 32 PROMS with new ones - no change.
* taken the memory card off and rebooted - no change
* pulled C10 - C13 PROMS from the MoBo with memory card off. Same result.
* tested the pins from the power supply, all have correct voltages.
* removed the keyboard cable from MoBo - same result.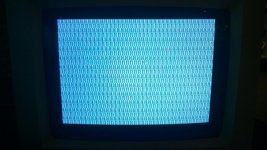 I've mashed all of the chips down with no effect. So before I go much further, just wanted to know what I should try next.
I've looked at the A3 Service Guide, but it seems like it troubleshoots from the machine at least a minimal boot.
Thank you!
Chris