Joined

May 26, 2018
Messages

1,259
Location
Got my master PSU up and running but the Master itself is very sick
The circuit diagram has a 16MHz oscillator that outputs through a 74S04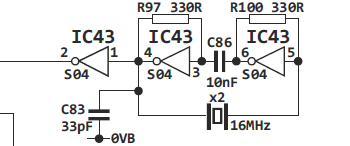 Then this goes to a video processor that also outputs various clocks and the 2MHz clock is used to run the processor
Pin 2 of IC43 is not showing anything like a 16MHz wave so I suspect this circuit. The gate IC tests ok although the Hex inverter actually fitted to my Master is a 74LS04 rather than the 74S04 specified in the manual but I doubt that should be causing the problem as 74LS while slower, should be ok for 16MHz I would have though ? This clock is then split at the video processor into 1,2,4 & 8 MHz clocks and none of them are stable and the whole machine is going crazy (the cassette interface relay clicks like mad !)
So maybe a failed capacitor. Thing is, the capacitors in the service manual are listed as CPLT, which I cant work out what they are.
0631,033 CPCTR CPLT 33p 3V 2% C83
0631,100 CPCTR CPLT 100p 3V 2% C86
Anyone know what a CPLT is short for ?
I probably can use a Mica capacitor I think, can get them in 2% tollerance but RS want £30 for one 10nf unit ! but I also note the discrepancy between the drawing and the parts list
The caps themselves have 33 and 10 written on them, so I am inclined to believe the drawing but is 10nF too big ?
Last edited: