Joined

Jun 20, 2021
Messages

66
Location
I have a 20 old computer and wanted to put a version of Linux on it. When flashing the ISO with Etcher to a USB SD card, it boots from the USB as normal and gives me a few options. Except I can't select anything. No arrow keys, no enter, not even the number lock (no light). I have tried two different versions of Linux (Lithium and Peppermint) and can't select anything, along with two keyboards. Perhaps it's the keyboard, perhaps the computer just freezes. Hard to tell.
Keyboards are USB and the computer has no options for PS/2 or other types. I've tried every USB port. Before I booted to USB, I was in the BIOS to check the keyboard. Works fine.
Now, Linux Mint
did
work, but I can't use it because it's way, way too fast for my puny computer (Intel Celeron with 512mb of RAM and 20gb HD). Then again, Mint doesn't have me select anything, it just boots. Once it boots, my keyboard worked fine.
So, I need one of two things:
1) My keyboard to work (or computer to stop freezing) during installation.
2) A version that doesn't wait for me to select something; something with either a timer or something that just boots to Linus without immediately asking me options.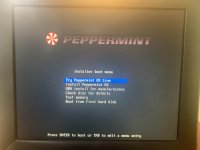 Last edited: