Joined

Apr 21, 2011
Messages

893
Location
I've finally found something I've been after for a very long time, a prototype of one of my favorite computers of all time, the Compaq SLT! Some of you here that are a member of the 'Vintage PC Enthusiasts" group on Facebook may have seen my post I did recently about this.

I check ebay daily for Compaq SLTs, because it is my goal to own every manufacturing variation that was ever done (system board revisions, molding differences. etc), and to see if there's any rare peripherals with the machines that get listed, and also for extremely rare and special machines like this.

So, a few weeks ago this came up on ebay with quite a high asking price for an untested SLT 386s/20 with no accessories (I can't seem to locate the ebay pic, so here's my own):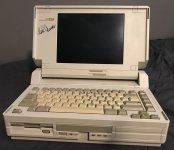 First thing I noticed is that it's signed by Rod Canion! I thought that was really cool (If you know anything about Compaq, you know who Rod Canion is). The second thing I noticed was the visible indentation for the "Compaq" logo label on the handle, but the label was absent. I have never seen one of those labels with even a corner lifted, let alone the whole thing missing. It really looked as it if had never had the label on the handle, and that really made me start wondering if this computer was far more special than I had initially guessed. "Could it really be?" I thought. Most people wouldn't think anything of this, because there WERE iterations WITHOUT the label on the handle, BUT those handles DON'T have the indentation for the label, ever. I just knew something was different here, so I kindly asked the seller to provide me a picture of the back of the unit, which is usually very revealing in telling if it is a non-production computer.
I still have those two images in my ebay inbox, so here they are. When I saw this, I was in disbelief: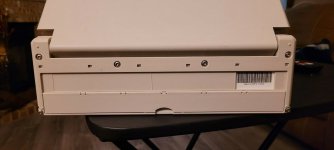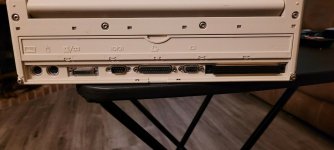 The first pic shows an unusual and somewhat crude-looking looking serial number sticker, and a complete lack of identification labels. The second picture was the real shocker for me, IT HAS A MOUSE PORT!!!! No production SLT ever had a PS/2 mouse port. Period. At this point I knew I had to get this laptop one way or another. The seller did come down some on his price, so that was good.
I was eager to get it and fully disassemble it to see what differences were hiding inside!
When it arrived with the box looking partially smashed, I was nervous. Thankfully the unit survived without damage.
Here's some other pics I took when it arrived: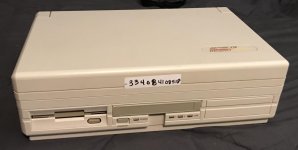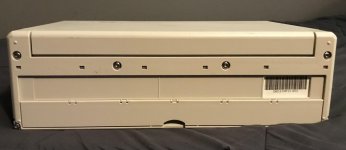 It's in fantastic condition. Really couldn't have been better.
Being an SLT, this is what happened when plugged in: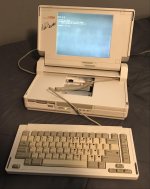 It works just fine, of course! This is the 7th one I've owned, and the 7th one to work just fine (I've actually owned 8, but the very first one I ever got was in terrible shape and was falling due to previous owner abuse and was eventually parted out, however it too worked just fine).
This machine has a preliminary BIOS version that behaves a little different to the production version. It has a slightly slower POST more like the SLT/286 and has a fast-blinking cursor just like the SLT/286. The production SLT 386s/20 BIOS version have a cursor than blinks much slower.
Here's some pics of the hard drive and system board: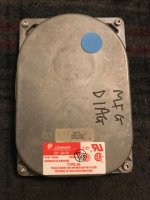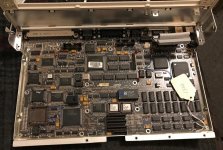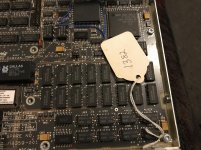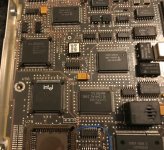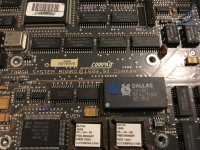 Notice the hard drive says "MFG DIAG" on it. I presume that's Manufacturing Diagnostic?
The board is marked "TARGA SYSTEM BOARD" which is something I've never seen before. So "TARGA" was presumably the code-name for the SLT 386s/20. There's also a label above that stating "NON REVENUE." Also notice the tag that's attached to the board with string with a hand-written number on it. There's lots of patch wires on this board too, way more than I've ever seen on a production unit. And take a look at the ROM chips with printed labels that state "ALPHA" and "PRELIMINARY."
This one of the coolest things I have ever owned! To own a prototype of a machine that means so much to me is just unreal. I don't have to just look at it behind glass, I can actually touch it and use it! Of course, I will be very careful with this laptop, but I'm careful with my stuff anyway, and where's the fun in just letting something sit and being too afraid to use it?
I was able to restore the 120MB Conner hard drive (had typical sticky bumper issue) however it appears the drive was formatted in the late 90s and was in use up until around 2001. It kills me to think they may have erased some Compaq internal-use stuff potentially related to the development of the SLT 386s/20, but oh well. They probably had no clue what this laptop actually was. There is ONE Compaq program on the hard drive called "ROM Revisions," which shows all the ROM versions and dates of whatever Compaq machine you run it on. To be honest, I have never seen this before, and wonder if it wasn't saved off of the hard drive before someone formatted it. "RR.EXE" is the filename. Has anyone heard of this program before?
As you can see from the date codes on the chips, this laptop dates from early 1990. The SLT 386s/20 was officially released in around the middle of 1990. The BIOS dates from just days before release, although that's certainly not the BIOS this machine started out with, I'm sure it was updated many times in those several months. I'm really happy it still has a preliminary version, rather than having the regular finished version. Makes it just that much more interesting.
Back to the mouse port; I could not get any mouse or driver to work with the PS/2 mouse port, so I looked at the board around the mouse port closer and noticed two SMD inductors that had been removed. I could see traces going from the pads into the mouse, and a multimeter confirmed that. These were presumably removed to disable the mouse port once it was decided to be deleted on production units. I was initially going to leave it alone, but then a person of Facebook (forget their name at the moment) suggested that installing those inductors would likely restore function to the mouse port, so I decided to install the inductors and see what happens.
Here's the end result: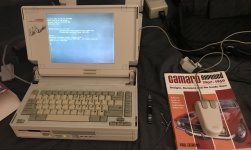 Mouse driver installed with my original IBM PS/2 mouse! It works! These old PS/2 mice don't work on serial converters, so it's a rare sight to see one working on a Compaq SLT!
One last thing that's interesting, is red paint has been applied to the Compaq logo on the bezel. Not sure who did this or when it was done, bit I'm going to leave it.
There you have it, one of the greatest things I've ever found! This is something I will keep for the rest of my life for sure.
Last edited: