Joined

Feb 7, 2014
Messages

1,084
Location
Data on 143 & 133 family parts from Amphenol Printed Circuit Connectors Catalog PC5
Hi all,
well it seems I am the first to post in this forum.
I am trying to find information on a specific family of Amphenol connectors, used in the
EAI TR-20 analog computer
; and likely other EAI products.
I am really urgently trying to get clear information on the 143 and 133 family parts
especially
the male
133-022-23
which as far as I can tell
?
, is
22 rectangular flat blade pin Male connector with round pins top and both of sides, at right angles to the blades to mount into a Printed Circuit board
They are detailed in "
Amphenol Printed Circuit Connectors Catalog PC5
", a copy of which came up on eBay recently, for a only $20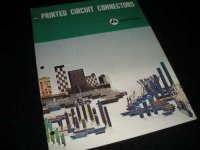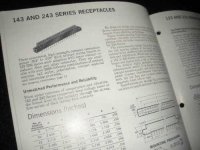 Seller in USA indicated they would not ship outside usa.
I sent seller a message, asking at least to pay for a scan of pages relating to the 133 and 143 family parts, or can they ship book to Australia.
SADLY they did NOT even respond. As a generalization, I note that USA sellers, that a/. only ship to usa, and b/. had very mixed type of items for sale (like more household trash-flee market bits) don't bother to reply to ebay emails that come from outside USA.
Seems this item was sold to 'best offer'. Hopefully it is someone on this forum or is friends of someone on the forum.
Had I not been sidetracked, what with my ladys medical appointments and Christmas, that when I had not heard back from seller, I should have asked someone on this group in USA, to buy it for me. I would have paid $20 via paypal into their account.
Hope someone can help with either a scan on 143 & 133 family parts ? or even the Catalog PC5 or at least does anyone have any of the male
133-022-23
connectors ?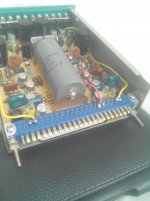 This is the DC amplifer that has the Amphenol connector I am trying to identify. I think its the 133-022-23. Last number indicates the type of pins on the pcb side. Since this is soldered to the PCB, I cannot read the part number which is on the reverse side. I am making assumption the -23 is this connector, but thats from reading the EAI spare parts manual. I really like to confirm by viewing item or seeing pic and info in a catalog.
regards
David
Last edited: