I came across this today and rescued it: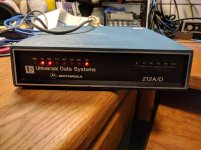 However, documentation seems to be very hard to find. I have found some manuals for earlier modems from the same company, but not anything for this modem. By chance there was a paper note inside of the cover that gave me the magic sequence to get into a menu system, but I'd like to get a full set of docs. (The sequence was "EN".)
Ever use or see one of these? If so, tell me your story.