Almost every novice or new collector will ask where to get old computers. The first answer they usually get is to look on eBay. Sure, eBay can be a good place to find the more common systems, but when you want to buy in quantity without the competition that is eBay, where do you look? Many people will say that thrift shops or garage sales are good places to start, but I have yet to find anything older than 1995. Goodwill has only turned up an iMac that looked like it was thrown off a building into a busy street, and a boxed, yet questionable, TI home computer. My community run thrift store hasn't a single computer, and my local independent thrift store is full of big talkers, saying they get systems all the time, yet somehow have nothing when I call back three weeks later. One day I was going to a distant thrift store, when I came upon a sign that read, "We repair and recycle computers". I thought they may have an old Mac Plus or Apple II, nothing out of the ordinary. When I go inside and talk to the guy about purchasing vintage systems, he shows me an entire warehouse full of the stuff! It's like an automotive salvage yard, but with computers! There is everything from an Apple IIc and Commodore 64, all the way up to the G4 and G5 iMacs. There are plenty of compact Macs, and since they do repair, there are a lot of newer systems that they salvage parts from. The warehouse is a bit bigger than a hotel suite, but there is quite a bit of stuff shoved in corners and on shelves, so I had to climb over old stuff to get to old stuff. Many of these places check eBay, and the owner wasn't too happy when he found out someone sold me some stuff for as cheap as I got it. I've found these computer repair/recycling places are great for finding old computers, and I have found another computer repair place in my area that frequently liquidates a large amount of items, old and new. A lot of websites dedicated to older systems (like this one) usually have a classifieds section where people sell their stuff, as well as in the comments section on the info page of said systems. Don't be afraid to call universities, companies, thrift stores, or computer repair/recycling facilities in your area searching for old computers! If your city has a city-wide electronics recycling event, contact who you can to see if they are willing to sell any old systems they get. Make brief flyers saying you are interested in old systems and hand them out to thrift stores, flea markets, community garage sales, computer repair/recycling facilities, and public bulletin boards. If you can, post an ad in the classifieds section of your newspaper saying you are interested in old computers. If a thrift store doesn't take old computers, they may give your contact to someone that is trying to get rid of them.
One more thing: some people think that just because their stuff is old, it is worth a lot of money. The owner of one repair/recycling facility I visited is the same way. His quote of the day: "We ain't gonna price these systems by if they turn on or not, we look on eBay and we know what they are worth. I'm not trying to offend anyone, but we are not simply giving them away. I've seen some go for $50, and some for $10k."
*facepalm* $10k? Not for ANY classic Mac, maybe the original 128K unopened...maybe. If they don't turn on, I can tell you right now they are not worth $10k, if he was lucky he might get $25. What he thinks is worth $10k, are a few newer generation classic Macs (Plus, Classic, SE, ETC.) that are covered in dust, have their fair share of scratches and chips, and most have major issues (no display, bad caps, sounds of stuff falling off inside when you pick them up, ETC.)
If you have any tips about finding old computers you want to share, feel free to reply and keep the thread going!
Photo below is a handful of classic Macs I pulled down for testing (only 1 was fully functional, so I purchased it along with some IBM PC XTs).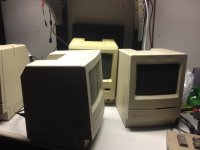 Last edited: