Joined

Jul 6, 2010
Messages

3,171
Location
Stumbled onto an estate sale today only to find out that I'd
just
missed snagging a Heathkit H11 setup :/ But there were a few bits of interesting miscellany that they'd tossed in the dumpster pile, so I grabbed them just for the heck of it. I don't really have any need for any of them, but maybe you do? Offer me beer money or something interesting, I'm not too picky. I'll ship, or meet for local pickup in the greater Sacramento area.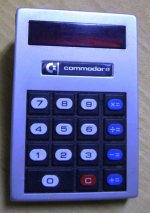 Commodore Minuteman 6 calculator
- some kind of kooky half-RPN model, as far as I can figure.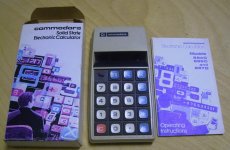 Commodore 886D calculator
- in box, with manual.
Both Commodore calculators are tested and working - they were stored without batteries, so no acid leakage crud inside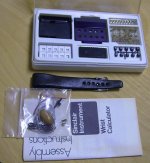 Sinclair wrist-calculator kit
- seems complete-ish, but I know nothing about this. Includes assembly and operating instructions, as well as a voucher for replacement parts which I'm sure Clive will be happy to honor. (Sorry, "
honour.
")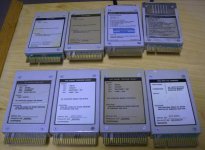 Tektronix 4051/4052 cartridges
- a random assortment, containing the following:
4051R01
4051 Matrix Functions
4051R05
4051 Binary Program Loader
(2x)
4051R06
4051 Editor
020-0476-00
4052/4054 File Manager
4052R06
4052 Editor
4052F10
4052 RS-232 Printer Interface
021-0189-00
4051 RS-232 Printer Interface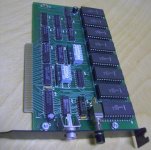 Mystery ISA card
- really, I'm mostly curious about what the hey this thing even is. All I can say for sure is that it has 16KB of RAM, a handful of 74-series ICs, a push-button switch (toggle, I think, but it might just be a very sticky momentary,) and an RCA jack. The only identifying mark on the board is a "(C) 1984 DATA BASE DECISIONS" notice. I'd almost assume it's some kind of kooky video card, but there's no ROM for BIOS integration, so...?