Joined

Apr 1, 2016
Messages

28
Location
In the recent years there was lot of acitivity on the Apollo guidance computer (AGC), but
also in Europe there where (widely unknown) developments regarding rocket guidance: In 1967 a
general purpose computer (no core rope memory, "only" 8k of core store) designed for the
Europa
space launcher
entered service: The
Elliott 920M
(as the AGC) used surface mounted integrated
circuits and implemented the 18 bit architecture known in the UK as the
Elliott 900 architecture
which was invented in the early 1960ties.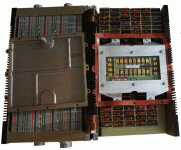 This 920M computer had several launches from Woomera and Kourou sites in its original
role, but later was used in various other airborne and ground based applications as well,
where it
served well into the 2010s
(more than 43 years!!). See my YouTube video on the 920M:
https://www.youtube.com/watch?v=v-gF5g0nnoE
0:20 Elliott Brothers and historic context of the 920M
2:06 Technical Details of the various members of the 900 series
2:56 A civil version of the 920M - three cabinets of electronics
3:53 Applications of the 920M computer (Jaguar, ELDO, Nimrod)
6:17 Kosygin at Elliott Brothers in Borehamwood
6:50 Anatomy of the 920M computer
11:31 Running various programs on the restored 920M
21:41 Into the 21st century with the 920ME - Re-implementation of the 900
series architecture using LSI.
22:55 Project Notes, ongoing work and Thanks.
I also have got a web page on the
various members of the Elliott 900 computers
I am
taking care of and on the
920M
and I have three different ones up and running:
http://www.programmer-electronic-control.de/index.html#BIGBROTHER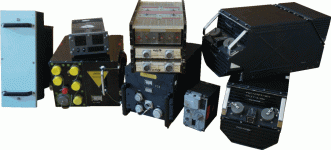 "Relatives" of the 920M used differnet word widths (like 12 bits or 13 bits) and where
used in many applications (ship's compasses, Boeing 747 auto throttle, control of
traffic lights or industrial machinery) and I know of the autopilot computer of the
Tornado military fighter aircraft
which is still in service in Germany, around 60 (!)
years after the architecture was created.
Best wishes and happy vintage computing to all of you,
Erik.
P.S. For other projects see my
blog
.
Last edited: