Joined

Mar 29, 2009
Messages

164
Location
So I spent the past 8 or so hours figuring out how to get a 4865 drive working with my XT. It turned out to be pretty easy once you know how, so I figured I'd write a little guide, may save someone else a lot of trouble.
The first thing to figure out was how to power the thing. It doesn't have its own power supply but it has a weird 4-pole connector. I have nothing to plug it in to though but it was pretty clear that that's where the power was supposed to come from. So I took the whole thing apart and started measuring and found out which pins where 12V, 5V and ground. Next I searched my entire basement for something I could plug this connector into, but to no avail.
Opened up the large connector to see what things looked like in there, and it turned out the drive will take power from through the DB37 connector as well. One problem, my controller (the original XT one) doesn't give it any. I have a couple of spare controllers so I figure I could offer one up for experimenting. What I wanted to do is steal the +12V/+5V power from the ISA connector. So I soldered 2 wires and lo and behold, the controller still worked with the internal drive.
I had a lot of trouble getting the external drive to read/write anything though, it would light up shortly and then give me a read error. But the diagnostics disk recognized it as an external 3.5'' drive and could also format a floppy. Long story short, I had changed the switches on the mainboard to 3 floppydrives, which made the new drive C: and this conflicted a bit with my PATH settings
The finishing touch was some config.sys wizardry and now the drive is working and made file transfer between my main machine and the XT a whole lot easier. Plus the 4865 is just cool :mrgreen:
Anyway, that was the long version. Here's the short version.
1) We need power. As easy as soldering 2 wires onto the back of the controller card.
B09 on the ISA connector to pin 1 on the DB37 (12V), and B03 to pin 4 (5V). Ground is taken care of by about half of the pins already so we don't need to do anything about that.
Here's a pic of the mod: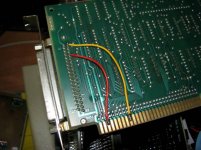 2) Leave the mainboard switches for number of floppydrives alone. You need to load driver.sys anyway to let DOS know it's a 720k and not a 360k drive and apparently it doesn't care about the switches. This saves you from having drive letters allocated to non-existing or unusable (720k that thinks its a 360k) drives.
3) Add driver.sys to your config.sys. My line looks like this with driver.sys copied to the root directory:
DEVICE=DRIVER.SYS /D:2 /F:2
That is drive 2 (first external), format 2 (720k).
4) Reboot, and your 4865 should now be accessible as D:!
That's all there is to it. Obviously I wouldn't be myself if I didn't have a question too.. I'm wondering if it's possible to have DOS use B: for the external drive instead of D? Without building adapter cables and what not, that is