Hello people,
I got this motherboard not long ago and at first sight I could notice it was heavily damaged by a battery leak.
Thankfully it booted, but the keyboard wasn't working.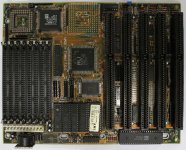 So I cleaned the leak which left some traces exposed.
At least one trace was damaged, one that goes from the keyboard DIN-5 female connector to a... is that a resistor? What is it? What are those two?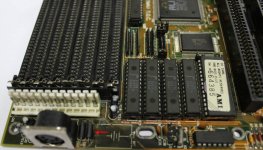 I soldered a wire to fulfill the duty of the damaged trace, and now the keyboard works!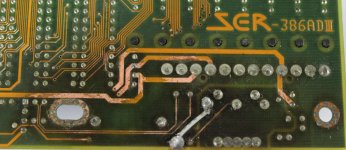 But there's more.
The motherboard is very unstable.
Sometimes it doesn't even post
Sometimes the display doesn't work (I have tested all different ISA 16-bit sockets and many different video cards)
Sometimes the display works but then it freezes along with all the system
Sometimes if I finally boot to MS-DOS, I may see this message:
Invalid device request reading device CON
Abort, Retry, Ignore, Fail?
And then all hope is lost. It's frozen.
Only a few times it has worked OK but only for a few minutes.
I wonder, maybe these two black... resistors? Have been damaged and are causing this problem (I hope). I included pictures so you can please advice me what to do.
I looked at my dead motherboards and found this one that has these similar, again, resistors? (please tell me what they are) And I was wondering, could I replace them with the ones on this motherboard? Are they the same? Do they have a fixed orientation?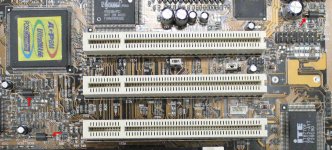 Do you think this sounds like a good idea? What have been your experiences dealing with this kind of damage? What sorts of tests and diagnostics do you recommend me to do?
I tried with different PSUs, I/O cards, video cards, etc.
Thank you for sharing your knowledge, experiences and helping.
More info about the motherboard:
SER / SERITECH 386-ADIII or 386-AD3
Chipset
ALI M1429 A1/9403 TS6/B17707 and M1431 A2/9349MA020
BIOS String
American Megatrends Inc., 40-0212-001133-00101111-040493-ali1429-f
CPU
Am386 DX-40
Cache
128 KB
http://th99.classic-computing.de/src/m/S-T/32373.htm