Joined

Apr 21, 2011
Messages

1,029
Location
This has been a dream of mine since I started collecting, and it's finally a reality!
Here's my new-to-me GRiDCase 1520!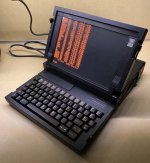 And it's the EXACT configuration I wanted also! Plasma display with single floppy and 20MB hard drive. It did cost me a little bit, but it was worth every penny. My particular one is a 10MHz variant and was built in mid 1989.
Mine is the slightly earlier revision motherboard with the 3.6v lithium battery instead of a Dallas chip, so that made things extremely easy. The 20MB Conner hard drive needed the usual repairs, with the biggest being cleaning up the melted gasket and resealing the drive. Works great now with no bad sectors! Makes that awesome Conner Peripherals signature sound that I love. It's the same series drives the Compaq SLTs use, so I'm very familiar with them. It's has lots of cool stuff on it. I will be backing it up soon.
Other than the battery and hard drive it didn't need anything else. The high contrast plasma display really is a sight to behold. It was a $995 option back in the day!
Funny thing is, I actually want to get one of the LCD variants now. There was the base option, a green/black transflective LCD, which actually looks very good from the pics I've seen. Then there was the "blue and white" LCD (a $295 option), which is probably the most commonly seen display on these. I wouldn't mind having both honestly!
Really wish I had gotten one of these sooner! I have really been missing out. The build quality of this thing is top-notch. Love the magnesium shell. The modular and serviceable construction is very nice also. This was not a throw away device by any means!
So there's my GRiD 1520! I will add some more pics to this thread later.