Joined

Feb 16, 2012
Messages

2,697
Location
Yes JX, not JR, I didn't make a typo
Thought I'd share it with you guys who haven't heard me rambling on in #vc on slashnet already.
So here it is, in amazingly good condition (I purchased it site unseen, and another collector picked it up and shipped it for me)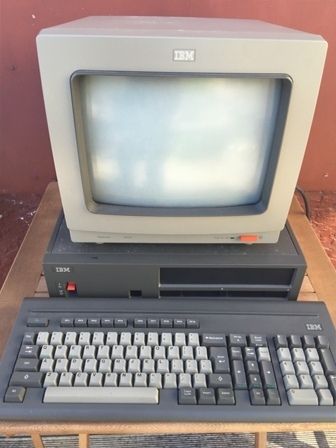 The first thing I noticed with this was the keyboard - this is the full keyboard with numeric keypad and the typing feel is fantastic. Like the JR it is also wireless, using 4 x AA batteries but does have a cord option.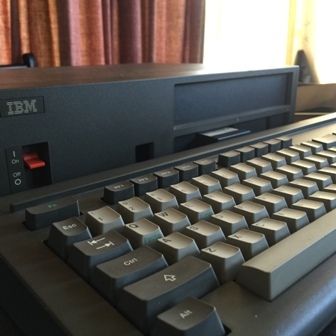 Internal expansion was fairly poor. I guess to discourage people from using it as a business replacement to the IBM PC 5150/5160 desktop units - they removed the JR's sidecar system and only provided minimal internal slots.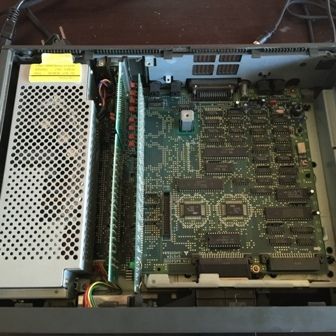 There are three slots. Top left is an RS232 card, and below it is a 64KB RAM card - the slot it's in appears to be only for use with a 64KB RAM card and is marked "EXRAM64". The card on the right is in the EXRAM128 slot - and provides 256KB of memory (these cards were available in 128,256 and 384) and judging by the battery also provides the user with a real time clock. So with the 64KB built in - we've got 384KB of RAM and a serial port - and now the only upgrade options we can add on is a 5.25" floppy drive top-hat or a 10MB ($NZD1700+ btw) hard drive top hat.
So not much expansion to be had. We did however get to keep the JR's graphics modes (plus a few more) and sound.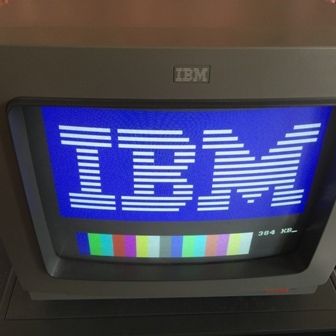 In fact that part of the system is so familiar, that "JX ColorPaint" and the built in MS BASIC - still think it's a JR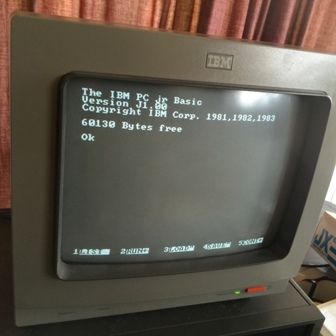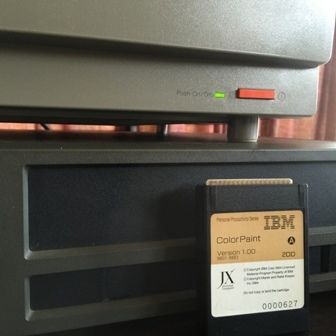 It is also well known the original BIOS only understands 40 track drives, despite the machine coming with 80 track drives. A later BIOS upgrade with DOS 3.2 magically unlocked the 720KB ability.
Now with that in mind, you may be wondering where my disk drives are. Sadly this was the base model - so no floppy drive module - which also means it's missing the internal attachments. The owner did upgrade it to be 384KB - but never seemed to get around to the disk drive upgrade.
This makes me wonder why the owner chose the JX over a Commodore, Apple, or even Amstrad system. It may have a bit more processor power but ultimately it was a BASIC system.
Pricelists (in what I beleive is NZ Dollars) - take note of the little message written in pen - I suspect this is why it does not have floppy drives fitted.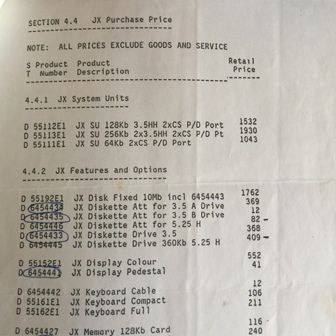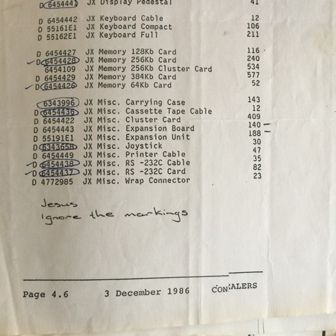 Some things you may have noticed:
- having more than 64KB of RAM would be useless with MS BASIC
- it has the PC DOS Tech Ref
- yet it has no drives?
I think nobody told him about how useful the memory would be in BASIC, and documentation shows he requested that IBM send him the tech ref - perhaps to check what it does before investing in the floppy system. Instead of upgrading it, the user (other docs/gear provided) purchased an IBM Model 30. The front blanking plate looks original, and with everything being so prestine, I am fairly sure the configuration is likely "as it was" in the late 80's.
Right now I'm very very keen to find a floppy module for it!
Last edited: