I am trying to use a
Spock Prime/Anosprime
SCSI adapter in Model 50z
It's Reference disk finds it ok, and it even seems to work, I see ZuluSCSI's devices properly, I'd 6 is an attempt to use reference disk image (it does not boot form it), and ID1 is an empty 20MB one.
During auto setup it finds it, but when it goes to set up SCSI devices it shows "An error occurred during installation of an initialization program. Select Test the Computer from the main menu to determine the cause of the problem."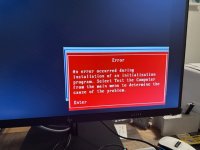 Needless to say testing does not show anything wrong, even scsi test succeed.
When I go to "Set and View SCSI Device Configuration" it shows devices (ZuluSCSI image files):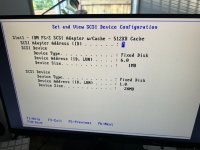 But any attempt to save configuration ends up with: "An error occurred while saving the SCSI data. Restart the computer and configure the SCSI devices again."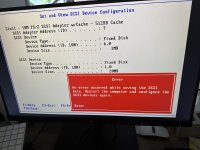 What could be wrong? Where does it tries to save it and why might fail?
ADFs are from system's reference disk 1990 dates , if I try to put newer ones 1993 dates, it can't find the device during auto setup.
It is the same if I remove zuluscsi, it does not matter if built-in hdd controller is installed or removed. The hdd does not work, well, it works, but heads scratch disks with unbearable noice, at least it tries to seek, but I think it's unrelated.