Joined

Jan 27, 2007
Messages

75
Location
Hello
Recently I restored an old XT mainboard, it's a 5160 clone with a bit different ROM selection circuit, and I wonder who made such boards, what for (was there a system?) and when, in my unit components are from 1984-85 (chips are made by TI and Nec). It does not look like a simplified Taiwanese clone. In typical clones, chips were soldered into board and in best cases the only info on silkscreen was type of ROMs.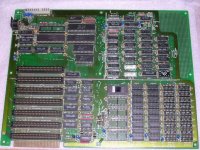 In this mainboard, all chips are in sockets, types are printed on silkscreen, component values (including passives and connector types!) and DIP settings are printed too. There is also some breadboard in a corner. Making such board is far from a cheap clone.
The ROM is a modified 08/16/1982 IBM's burned to EPROM (came without sticker, so no info from it). There is a logo behind NPU socket which looks like stylish S with a resistor symbol in it.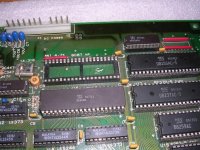 And the male ISA connector on the edge of the board - what is it, is it for some kind of riser?
ROM circuit allows to connect not only ROM, but also to connect /MEMW to some sockets R/W pin like for SRAM. Additionally IRQ2 can be connected to ROM socket pin 2 (usually A12). Was there a configuration involving RAM in ROM area?
Thanks in advance