Joined

Nov 22, 2012
Messages

1,271
Location
Well, I started a thread "
Sadly, one less Lisa in the world
" and I thought I'd start a new thread because I decided to try to replace my CRT without having to resort to buying a CRT in chassis... yet.
With the encouragement here, I think I may give this a shot. I figured I'd document this here in case any other poor soul gets a Lisa with a CRT broken in shipment.
Here's what my CRT neck looked like when I got my Lisa: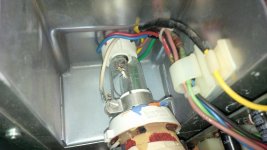 My CRT markings are as follows:
Clinton Electronics 12" monochrome white phospor tube
CEULC99F1ATE
CE727M12C164GR
707-0008
E1A1240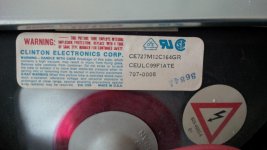 From an online surplus store, I ordered a CEULC99F CRT listed as: "CEULC99F CRT AITE , 70-18349-01".
I have found no guides or hints on the Internet at how to decode the Clinton Electronics model numbers so I'm not even sure this will work. I did read in a CRT testing manual that "CEULC99F" is the model of this tube but I can't figure out much more than that. At this point, I'm taking a shot at this being close. It, apparently, comes with the yoke but I'm not sure if it will have the two vertical/horizontal separate connectors as I've seen another on eBay that is marked similarly with one solid four wire connector from the yolk.
I'll keep you guys up to date when I get the CRT. I am very sceptical that it will be a direct replacement but I thought I'd give it a shot before having to spend a larger sum to get a CRT in chassis.
If anyone has done this or have any pointers, I think I've built up enough courage to tackle this (and discharging the old tube).