Joined

Apr 27, 2020
Messages

57
Location
I've been working on a MAC IIci for the last couple of weeks that was sent my way for the price of postage only as it was heavily battery rotted. The former owner had a go but was unable to get any life out of it. I've been over it in fine detail and repaired maybe 30 traces, its finally showing some signs of life but little else. Currently when powered up it chimes and gives a black screen. If I remove one of the ram simms it plays a different chime (death chime?) and again just sits at a black screen.
I don't know much about apples but I've been told this is sign of it booting but its failing it hardware tests before it can show a sad mac. I've tried other ram simms although one thing I'm not sure of is does the mac need a certain type of ram? The other simms I used are just out of an old PC.
The board was recapped by the previous owner although I've been over this work and while it needed tidied a bit it wasn't bad. I don't see anything broken or damaged at that end of the board, it was just around the battery area.
I've tried it on both a VGA monitor using a home made cable and my old MAC CRT, the crt is just a pain to use since it so large, but in both instances the result is the same. The LCD reports its receiving a 640x480 66hz signal so I think that's working ok.
I appreciate its not a lot to go on but if anyone had any ideas of things to try in my attempts to repair this machine then please let me know.
One question, to test the rom chips I was going to read them out in my TL866 but what would be a compatible eprom? They are 32pin dips and I think 8x512?
Couple of photos from work in progress. It has obviously moved on from when these were taken with the remaining parts fitted and a few more patch wires run. Most the patches are hidden under the sockets, in the most part the damage was traces disconnected from their hole. Basically anywhere you see copper was more or less green from battery rot.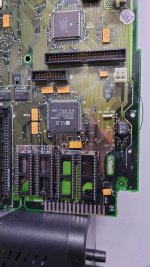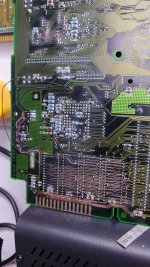 top side bottom side