Joined

Mar 25, 2015
Messages

93
Location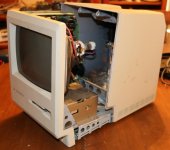 KerBroken. Dark screen of death. Nothing. Nada.
Anybody want it for parts? I feel it's a sin to throw away computers. It might be a sin to keep them when you desperately want to reclaim space in your garage. I bought a collection from a guy on Craigslist because I wanted the Commodore Pet with Chiclets keyboard - it works but the keyboard has some keys not working. The collection came with a bunch of other stuff I mostly didn't want - some of which is advertised in this forum.
Help a guy out in my great garage purge of 2016.
Make offer
Local pickup in Phoenix or weekend of August 6-7 in MountainView, CA
I won't be schlepping these to Mountainview unless I get an offer.