Joined

Aug 29, 2021
Messages

128
Location
After about a day of trial and error I was able to make an SSSD disk in the Osborne 1 emulator in MAME. By copying files from an SSDD image to an SSSD image, you could export it into an .HFE file and use it in a Gotek. This way, you don't need a system with a drive controller that can write single density disks with Teledisk or Image disk.
The main downsides though are MAME, the lack of documentation on the Osborne 1 emulator and the fact you need to modify the Osborne 1 by adding the Gotek drive.
Now, before anyone says "You could have asked instead of wasting a day on trial and error", you are right... I could have. But it was a good wasted day, and I learned a lot by just doing and eventually (more or less) brute forced the solution.
The biggest hurdle that I encountered was the MAME Osborne 1 can't use .IMD files - or at least, I could not get them to work.
It pretends to accept them but throws Bdos errors trying to access them. Teledisks .TD0 files can be accessed but only work in "read-only" mode. Any other mode either throws an error or crashes the emulator entirely.
But, while playing around with these .TD0 files with the "read from this and write to another image" option, you get the .MFM file format for HxC drive emulators. So, I exported a blank SSSD image using the HxC software to a .MFM file. After formating the image the MAME Osborne 1 is perfectly happy both reading from and writing to it.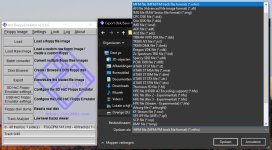 After copying some files from the SSDD image (this can left as a TD0) to the empty .MFM image and converting that into .HFE, I had a working SSSD image for the real Osborne 1.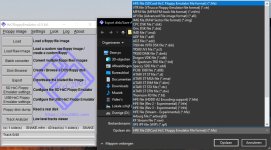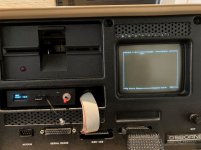 There are plenty of sites available that have the Osborne 1's standard complement of disks listed, both in .TD0 and in .IMD format, often including a blank image. Getting a Gotek to work in the Osborne 1 has been fairly well documented on various forums.
This method eliminates the need to use command line tools and systems not everyone has access to (like myself for example, I have no other computer in my collection that can write to SSSD disks).