Joined

Mar 25, 2015
Messages

93
Location
I recently purchased what I believe would be called a Mits 300/25 with the rack, desk and supports. The table top is in reasonably, but not perfect, condition. It looks complete with an 8800b front panel and a turnkey board. And dual Pertec eight inch floppy disk drives all on rails. I believe I have a matching printer stand for it too. My purchase is insane in light of the concerted and so far successful effort I've been making over the last several months to reduce the amount of Vintage equipment I have consuming so much available space throughout my home.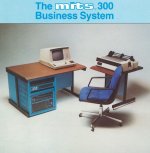 There are actual images of the system, boards and drive on
my wiki here
.
Some thoughts for discussion.
How important is it to save remaining examples of Mits computer systems and their original cabinets / furniture?
How many examples of furniture are still existing?
I would like to sell it, I want the space. It would probably be easier if I just sold the computer and drives without the desk. However I feel it's important to preserve some examples of where we came from. I'm thinking it would be unfortunate to separate the computer from the desk. And it would be unthinkable to scrap the desk / cabinetry. Or perhaps there are enough examples in museums and collections now?
Thoughts?
Thanks, - Jeff