Joined

Jan 22, 2019
Messages

148
Location
This is my first Omnibus interface card, using the flip-chip adapter boards shown in this thread:-
https://www.vcfed.org/forum/forum/g...l-purpose-flip-chip-adapter-board-worth-doing
It's a mash-up of the boot-loader designs by Malcolm Macleod and Roland Huisman, plus some extra stuff:-
* power supply voltage monitoring,
* ability to read the memory address and memory data buses
Links to projects by Malcolm & Roland:-
https://avitech.com.au/?page_id=3372
https://github.com/Roland-Huisman/M847-extended-version-V1.1
https://www.youtube.com/watch?v=0nqb3zyAv2g&ab_channel=proxxima038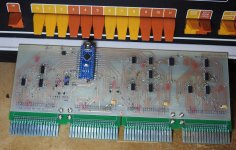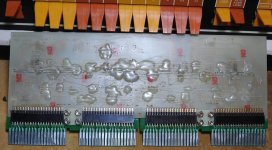 -----------
As I expected, the many wire links were a problem because the 0.8mm holes are a bit too large for the size of the via pads. There were about 6 or 7 bad solder joints, and I had to fix each of them as I encountered the problems they caused. The pdp8/f would not even tolerate the board being installed until I fixed the first 3 or 4. After that, it would at least operate with the board installed.
Then came a few days of understanding how the Omnibus signals needed to be manipulated in order to read and write memory, and to start and stop programs running. Roland and Malcolm's code was a big help here, but I struggled with this for a few days, until I found myself needing to control some signals in completely the *opposite* way to how Roland's code did it. And that's despite using exactly the same circuitry between the Nano and the Omnibus! This was for the INITIALIZE-H and PULSE-LA-H signals with type 5 loads, and needing type 10 transistor drivers.
Anyway, once the essential basics were sorted out, I could start making a PC based "control centre" program to make displaying and modifying memory possible, and providing a simple way to download programs to the PDP, and run them. The video below is a quick and rough description of where I'm up to with that.
This screenshot shows the program download page. A simple text file contains all the sample programs, which are listed at the left. The selected one is displayed on the right, and can be downloaded, and optionally run.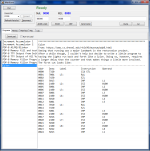 This screenshot is of the memory display page, which shows a 4K field all at once, with facilities to fill areas of memory with specific values.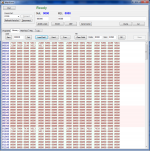 Still to come is a memory test page that can download all sorts of data to memory, including random patterns, and check that they all read back correctly.
Video:-
https://youtu.be/O4OxPVE5jGM
I downloaded and ran programs on the PDP-8, and the only key on it's front panel that I touched was the power turnkey!