Joined

May 9, 2011
Messages

5,103
Location
Went to an electronics/Ham swap meet this weekend. The pickings were pretty slim there so far as vintage computers go but I did nab a few somethings, I guess:
While wandering about I saw three disembodied keyboards lying on the asphalt. I was discussing their provenance with a buddy when I was asked by the seller if I would like to have them for free. (They were were getting ready to go and didn't feel like packing them up.) So, sure, why not, I'm now the proud owner of three old keyboards.
Two out of three of the keyboards formerly belonged to TRS-80 Model IVs. They're the earlier model IV keyboard with cursor keys arranged like a I/III rather than clustered, and one of them still had a bezel with a 64k button associated with it. (I'm not sure what I'm going to do with these. They seem to be in good shape, with all the keys present and decent spring action. Maybe someone would be interested in a trade?) The third keyboard appears to be from a terminal of some sort but that's about as far as I'd guess.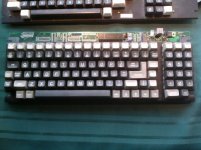 Ring any bells with anyone? It has an RJ-11 connector on the back, and the keyboard encoder looks like it's an Intel 8048 variant. I didn't find any obvious manufacturing logos or part numbers on it.