Joined

Jan 27, 2008
Messages

55
Location
so I picked up a ~1987 NEC MultiSpeed HD a couple weeks ago. model is PC-16-03, and according to forum archives, our own DoctorPepper has one of these machines.
AC adapter voltage is 15v @ 3A, and uses a proprietary connector.
Specs:
-NEC V30 4.77/9.54MHz
-640K RAM
-20MB Hard Drive (mine's dead!)
-720K Floppy Drive, will NOT accept a 1.44MB drive
-640x400 grayscale LCD, backlit
-IBM XT compatible Keyboard
-- and room for an NEC branded rechargeable NiCd Battery with 900mAh of juice, 9.6v IIRC. it's made of C batteries.
Keyboard uses Alps switches, soldered down to the board. mine need to be cleaned as they've been abused for the BETTER half of the last 27 years. I'm currently looking at my options for that since the keys are soldered down to hte board and can't be removed without desoldering the entire switch mechanism.
Hard drive is a 26-pin JVC RLL-encoded drive. I may be getting another one of these from Mike Chambers, but my main question is if there's anything I can do for the thing to get it working in the meantime? and, if anyone has ever done component replacement on these old drives to get them working. I haven't touched mine since the day it was taken out, so I haven't seen an underside of the board recently... and I don't really have the proper tools to test the drive components with on the controller board. Right now I have the hard drive, hard drive fan (40mm), drive tray, and RLL...? controller removed from the machine and off to the side. machine works perfectly fine without these.
Pic of working unit, running IRCjr atop MS-DOS 3.21 utilizing a Xircom Pocket Ethernet III: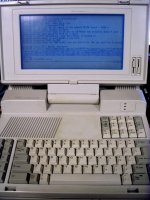 Any help would be awesome to get the hard rive I have working before I get the replacement drive. I'd love to recover any newer files for this system and make them available for any potential or existing owners of these wonderful machines and their derivatives.