Joined

May 31, 2016
Messages

621
Location
A few days ago I encountered on eBay a Compaq Enhanced keyboard. (their first version of the Model M) You used to find them with the Deskpro 286 and Deskpro 386. This one was listed as untested and the photos didn't show a cord. Since the seller was taking offers I offered $10, he counter-offered $12, and I took it. About $29 with shipping from California.
I got it yesterday; looks fairly clean, and a cord was included. Just about all the exterior insulation was gone. I plugged it into my Deskpro 286/12 and got a keyboard error. No surprise there. Then I grabbed the cord from my Model M XT version. It liked that just fine.
As far as I can tell, it only had 3 dead keys: *, /, and + from the number pad. Caps Lock & Num Lock work, as well as the LEDs. I guess Scroll Lock works; at least the LED does.
So, not too bad a deal. I haven't taken it apart yet, but I expect it uses the same capacitance system the Portable does. Has anyone taken one of these apart?
Here's a stock image, my phone camera is all bandjacked: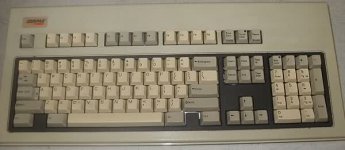 Just found this, looks like the answer is yes: