I acquired a very interesting Kaypro yesterday and "Omni II Logic Analyzer/Computer" is labeled on both sides.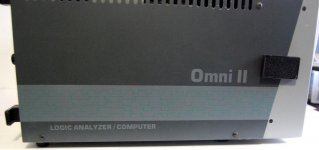 Not much information about it is available on the Web. However, I did manage to locate a brief New Product intro that appeared on Oct 1983 edition of Microcomputing magazine."A Dual-Purpose Portable---The Omni II, from OmniLogic, Inc. (Renton, WA), is designed to integrate the utility of a timing/state logic analyzer with a full-function CP/M microcomputer—all in a portable 27-pound package. "

Since I do not have the manual or the software, I could not get pass the insert disk after booting. However, the magazine brief says that "Upon being powered-up, the Omni II does an automatic self-check of its internal circuitry. The set-up page will then appear, allowing configuration of the machine for data collection." I assumed that the EPROM had the software to get to this point, but it did not work.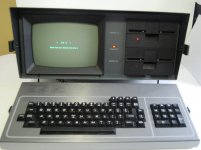 Obviously, I had to open it up and look inside and what I found is a Kaypro 4 with two additional boards. A logic analyzer board is mounted under the main Kaypro logic board (PC81-240A) that connects via a ribbon cable to a CPU board which plugs to the Z-80 CPU socket. There are two EPROM chips Labeled: (OMNI II /CPU 32/7-30-83) and (OMNI 2/CHAR 2/8-23-84).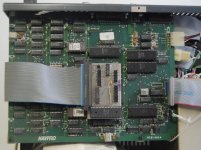 If you have the manual or the disks, please contact me. I will pay $$ for copies or the originals...
Cheers