Joined

Jul 1, 2018
Messages

245
Location
Something is escaping me here. I'm looking over this mod, but I cant find anything about the need to increase the video RAM on a 40 col. machine. I suppose that it's not a requirement if you're modifying an 80 col. machine - but in the case of a 40 col. it's a different story.

I'd initially assumed that the additional RAM would be on the daughterboard, but that only holds logic chips. Could someone please supply additional details on this?
You'll need to populate the chips in this area. You'll effectively convert it to an 80 col machine with the ability to switch back.
IIRC it will require a custom EDIT ROM to initialize the CRTC for 80 columns, but will maintain the same keyboard mapping.
vRAM is 2114 static RAM and there's some additional logic chips.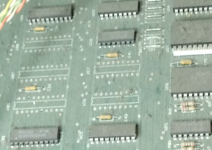 Last edited: