I thought I'd try something just for fun and start this thread. I'd like to see it go for a long time.
You don't necessarily have to tell who the character is and from where immediately. You can give people a couple days to try to guess.
Here is my (first) character.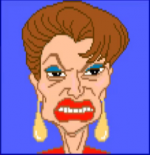 Leona Humpford, from
The Adventures of Willy Beamish
.
Last edited: