Joined

May 31, 2021
Messages

6
Location
Hello All
I've recently got myself an original KIM-1 – a Commodore-branded Rev G.
All is well, except the keyboard is unreliable.
The keys get progressively more unreliable and unresponsive from the top row to the bottom.
However, if I press down (quite firmly) below the bottom row – then, all the keys on the keyboard seem to work (the RS key works but never 'clicks' when pressed). I've attached a photo to make it clear what I mean by pressing down below the bottom row.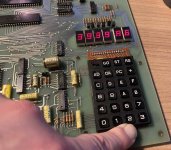 I'm guessing the keys have become unresponsive with repeated use and that when pressed the contacts under the keys are not made, but that pressing down hard below the last row brings everything closer together and then the contacts are made on a keypress.
It seems obvious to me to dismantle the keyboard, find out what is going on inside, and try to bring the contacts back closer together. I assume the keyboard will come apart if I undo the screws below it on the reverse side of the motherboard (photo attached).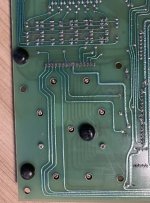 However, before I do, I wanted to see if anyone has ever done so, and, if so, are there any things (especially problems) I should be aware of? I've looked around online and on YouTube and can't find any examples at all of someone dismantling a KIM-1 keyboard.
Any feedback, advice, warnings, etc, would be gratefully received.
Thanks
John