Joined

Mar 24, 2011
Messages

1,340
Location
Well let's ask the MS-DOS guys too :D
Does anyone know the RMS 518 Hard disk? It is a 5.25 Full Height
MFM drive. So they might be used in MS-dos systems also.
I need to find a similar hard disk. But I do not now the technical data.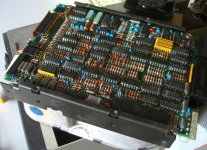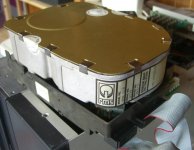 With a little help from Fred Jan I've got some other RMS disk data.
Disk format (H CYL S)
RMS 503 => 2 153 17 2.6MB
RMS 506 => 4 153 17 5.2MB
RMS 512 => 8 153 17 10.4MB
RMS 514 => 4 338 17 11.5MB
RMS 518 => STILL UNKNOWN
All these drives are 17 sector drives.
The Xebec controller is jumpered to 256 Byte / 32 sector according the Xebec documentation.
I wonder, is the drive "misused" with a slightly different data amount per track?
(It that possible anyway?) Or is it really a 32 sector drive?
Counting protection wires and diodes tells me it's probably an 8 head drive.
But still I have no clue about further technical data.
I really wonder is anyone knows this disk...
Thanks in advance!
Regards, Roland
Same question at CP/M treath:
http://www.vintage-computer.com/vcforum/showthread.php?36431-Identify-harddisk-and-controller
Last edited: