Joined

Jan 22, 2011
Messages

5,665
Location
At long last -- the coveted one is here! My CT1024s finally have something to talk to (maybe)!
Yes, at last, after years of searching I've finally snagged a SWTPC 6800!
It's amazing to see the thing you've lusted after and admired in youtube videos up close. One thing I will say, the videos and pictures don't convey how large it is. It's nearly the same size as my DG Z80. I expected it to be a fair size of course, but not quite this big.
It has the most wonderful 70s early computer feel to it. In fact, my CT1024 terminal almost manages to feel more substantial for some reason. Despite its size, the case actually feels kind of flexible/breakable, so I'm being really gentle with it.
I've taken some pics and pulled out some of the cards. I *hate* the SWTPC bus connector design. Those pins make it a savage job to pull cards safely.
Not sure what the floppy disk looking board is. I'm guessing it's a floppy controller of some sort. Looks like it says 'F&D Associates - MDI (or L?) -1.
No idea what the little breadboard does. Also it seems we have two serial cards -- MP-C and MP-S.
Not sure how to proceed here.. so far power supply looks okay. I'm tempted to strip it down to the bare essentials to get going, like we did with the DG, but there's a lot of wires, jumpers, etc to figure out. Really hoping to get it to work with the CT1024 it was intended for. That'd be a great youtube video -- a few people have posted 6800 videos but nobody but me has posted any of the CT1024, and nobody has posted any of the two devices together.
I don't know how early/late this machine is. I was told the earliest ones have a silver bar around the front of the case. The later ones are said to have the proper cutouts for DB25 connectors. However, mine has the black (later) case front, and the back is all circles (earlier). CPU is fifth week of 76, lots of chips from earlier around... there's a later 78 SWTBUG ROM that was likely added later. Thoughts?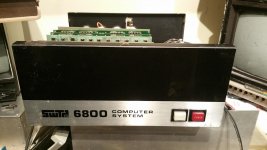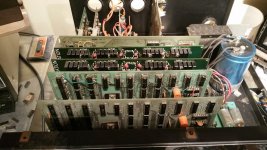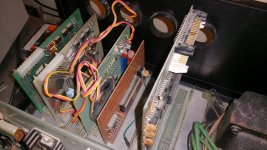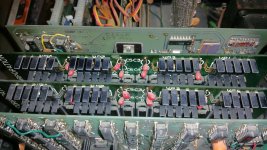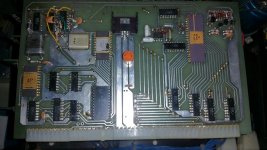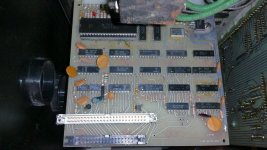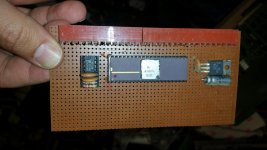 Last edited: