I've been trying to get a a TEAC FD-55GS working in DOS for several days now with no luck. I just can't get the SCSI card to recognize the device. I'm wondering if anyone has been able to successfully get one of these to work in DOS and if you had, what jumper settings and SCSI Card did you use?
I have pulled the floppy drive (a TEAC FD-55GFR 701-U) and tested it with a regular floppy controller and it works fine. I was able to format disks, read and write with no issue. Scandisks showed perfect disks. The disks were readable in other 1.2mb drives. It appears that the floppy drive is ok - at least with a PC floppy controller. The only physical issue I can see wrong with the drive is that the DS3 jumpers are broken off, but I don't see that as a problem.
I tried using the drive with a TEAC FC-1 card and it acts the same. The SCSI card does not recognize FC-1 SCSI bridge/controller. Based on my experience with the FC-1, this is typical behavior when your floppy drive is not compatible with the FC-1 or not correctly jumpered. This FC-1 tests and works fine with compatible 1.44MB drives, but does not work with the 1.2MB floppy drive.
Documentation is pretty thin. I did find this configuration section in some kind of industrial automation device made by Foxboro. I've spent hours trying various jumper settings. I think the only thing left to try are different SCSI cards. I'm currently using a Future Domain card, but I have an Adaptec 1542CP as well as a Trantor T160 on the way.
I guess the questions are:
What floppy drives are compatible with the TEAC-55GS. The Foxboro documentation lists FD-55GFR-141-U and FD-55GFR-701-U. Are there more compatible floppy drives than these 2?
Does the model even matter? Will any FD-55GFR work?
What Jumper settings on the 13332137-00F bridge/controller work?
What SCSI Cards are known to work?
I keep thinking that this particular model might have been made for a specific system and therefore will never work in DOS. The Foxboro documentation indicate that's a UNIX based system.
Any other suggestions or information would be much appreciated. Thanks!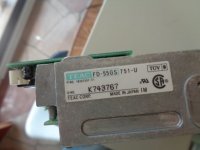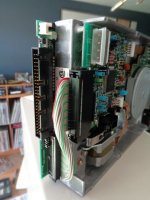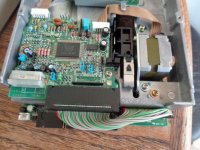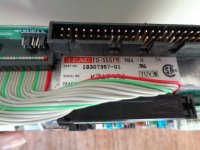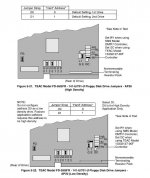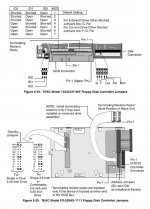 Last edited: