Joined

Jul 5, 2012
Messages

372
Location
So I created a mutifunction module / ROMPack for the Tektronix 4052/4054
- This covers the ROM-expander (Tektronix 4050E01) functionality in that it allows the equivalent of up to 8 ROMpacks into a single ROMpack module. ( Actually 16, if the TEK would have been able to handle that...)
- One of these can be the equivalent of the Transera 741-RTC module. ( This is verified working ) Not Y2K compliant !
- and one of these can be the equivalent of the serial printer interface. (functionality to be tested when PCB's are back from the fab)
For good measure there is also the possibilty to add a reset button that will reset the whole machine.
The 8 ROM images are combined into 8 16K slots in a 27c010 Eprom and can be choosen at will. If RTC and / or printer functionality is not required, then you can just not populate these devices, and use the freed-up space for other rom images.
That is what it looks like :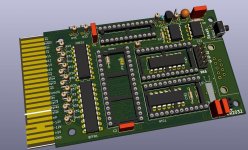 Sorry 4052/54 (-a) only, the 4051 will need a slightly different PCB, but ready to help out if some 4051 owner wants to try out things !
Key components :
27c010 Eprom ( ROM images)
22V10 GAL (system decoder),
DS12885 chip ( or DS12887 module) RTC,
74ls580 (sub-second timer)
MC6850 (ACIA)
SN75155 ( 2x, line xref)
74hc4040 baud rate clock divider,
74ls173 (bank switch latch)
74ls245 (data xfer)
Who wants a PCB ( 15 $ ) ?
a set of the above components (China-sourced, approx. 30$) ?
I'd rather not create full kits, nevertheless if that is what you want, shout !
And who needs build & tested PCB's ( approx 70$) ?
( all without shipping that is.... )
Oh yes : Tektronix 4052/4054 diagnostic packs (equivalents..) are still available !
Last edited: