Joined

May 22, 2007
Messages

169
Location
Hi all,
I'm in Tigard (near Portland), Oregon. I know that local-only can be a drag, but I really don't want to ship this stuff (costly and fragile). Therefore, this is for local pickup only.
I have four classic Macs, one of which seems to be working, and some things to go with them:
Mac 512, appears to be working, but no OS 4.1 or earlier, so I cannot test. Bings, comes up to disk ? prompt. I used a spare 512 motherboard to repair it. It had previously been upgraded using a Supermac board, but that whole thing had failed. (I will throw it in if someone wants it.)
3 Mac Pluses, not working. Bings, and 2 of them seem to boot the System 6 disk, but no video. One makes a crackling sound (high voltage/video?).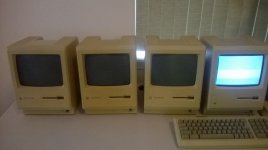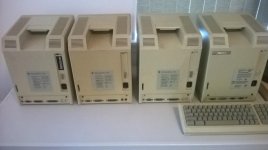 For all of the above, I have one keyboard that has all the keys and works, but does have a crack on one corner. I have NO mouse.
This equipment is all yellowed with age. But as far as I can see, there are no major cracks, dings, or gashes (aside from the keyboard issue I mentioned). All is not much worse for wear. One of the Macs is missing the battery compartment cover because that SuperMac upgrade placed a SCSI connector where the battery cover goes.
Also, I have:
System 6 with original mini-binder. Disk works, and has been used pretty recently.
HyperCard with mini-binder and disks. Untested.
Above-mentioned Mac 128/512/Plus keyboard with cracked corner.
Two Farallon PhoneNet connectors with terminators.
Asante "Micro AsantePrint" LocalTalk to Ethernet bridge.
ADB large keyboard and mouse. Not tested, and quite yellowed.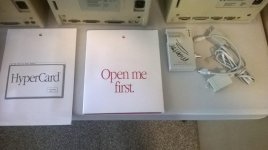 I'm not a classic Mac collector. I'd like to trade all of the above for some other gear, like Commodore, Atari, or DEC.
If you're interested, please shoot me a PM, and let me know what you might be willing to trade. If you'd like to make a money offer, that's fine too.
Thanks!
- Earl