Joined

Apr 21, 2011
Messages

988
Location
After getting the TravelMate LT 286/12 and seeing how good of a laptop it was, I decided to get one of the newer ones that I have casually wanted for many years and see if it they are any good or not.
I ended up getting a 3000, which was TI's top-of-the-line notebook in 1991, featuring a 20MHz 386SX CPU. It was sold as untested, so I didn't know what to expect.
I knew the charger was weird and very hard to find, so the plan was to power it through the battery contacts. So when I received the laptop, I did just that and got it working! The screen was very dim at first, but it brightened up after a few seconds (those old backlight tubes take a bit to wake up after such a long sleep). It was all working except for the hard drive.
Upon opening the unit, I was happy to see not only the original 60MB Conner hard drive, but also a 2MB memory upgrade! That gives this unit 4MB total.
Here's an internal shot as well as some close-up pics of the hard drive removed: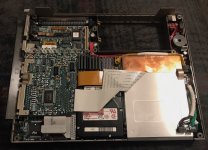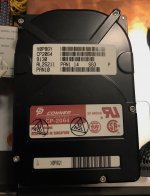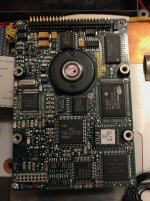 It's a Conner CP-2064, to be exact. I like these Conners because they are usually very reliable and easy to fix as long as the gasket hasn't turned to goo and gotten all over the platters, which this one hasn't, so I did the usual repair on the rubber bumper, reinstalled it and it booted to DOS 4.01! DOS 4.01 is indeed what this laptop ran originally, but that's most certainly not what I wanted to run on it, so I backed up the important stuff, formatted it and installed DOS 6.22. The drive is in perfect health with no bad sectors.
The floppy drive had the usual belt that has rotted, rendering the drive non-functional. I did replace the belt, but it still wont work reliably, I have only gotten it to read a disk a handful of times. I did see one SMD aluminum cap in the floppy drive, so maybe that bad and causing some issues.
Here is a pic of the laptop in its entirety, running Windows 3.0: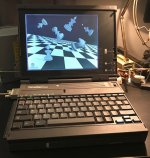 Pretty good looking laptop, I must say. I love the little brightness and contrast "wheels" and the switch for reversing the LCD is super cool.
Here is a shot of the ports on the side, as well as one of the unit closed: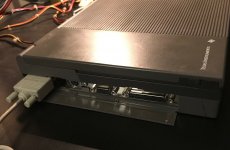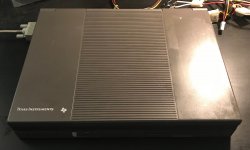 Here are CheckIt benchmarks of the CPU and hard drive: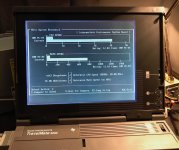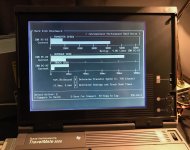 Setup utility: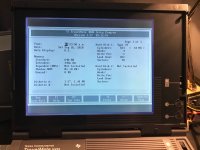 And here's what Wolfenstein 3-D looks like on it:mrgreen: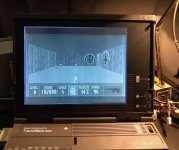 I actually really like playing it on these old grayscale laptops.
Another thing I observed on this unit is the hinge mount design; it's REALLY GOOD!
Here's a pic of the inside of the display housing so you can see: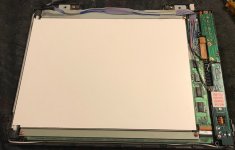 The housing is upside down here, so look to the top. Notice that big steel plate the hinges bolt against. This disperses the pressure from the hinges evenly, which makes for a solid hinge mechanism that wont fall apart. Very good design.
I'm really liking this laptop so far. I've still got some other stuff I want to do to it, so I'll be posting that here, but for now that's about all.