Joined

Dec 9, 2009
Messages

737
Location
I recently bought a T1000XE with problems. Thought I would start a thread specific to this machine, and capture what I find.
some related threads:
Toshiba T1000XE has a similar specification to the IBM PC Convertible, with a 4.77MHz 80C88 CPU, 512KB RAM, and a monochrome CGA.
oldcrap.org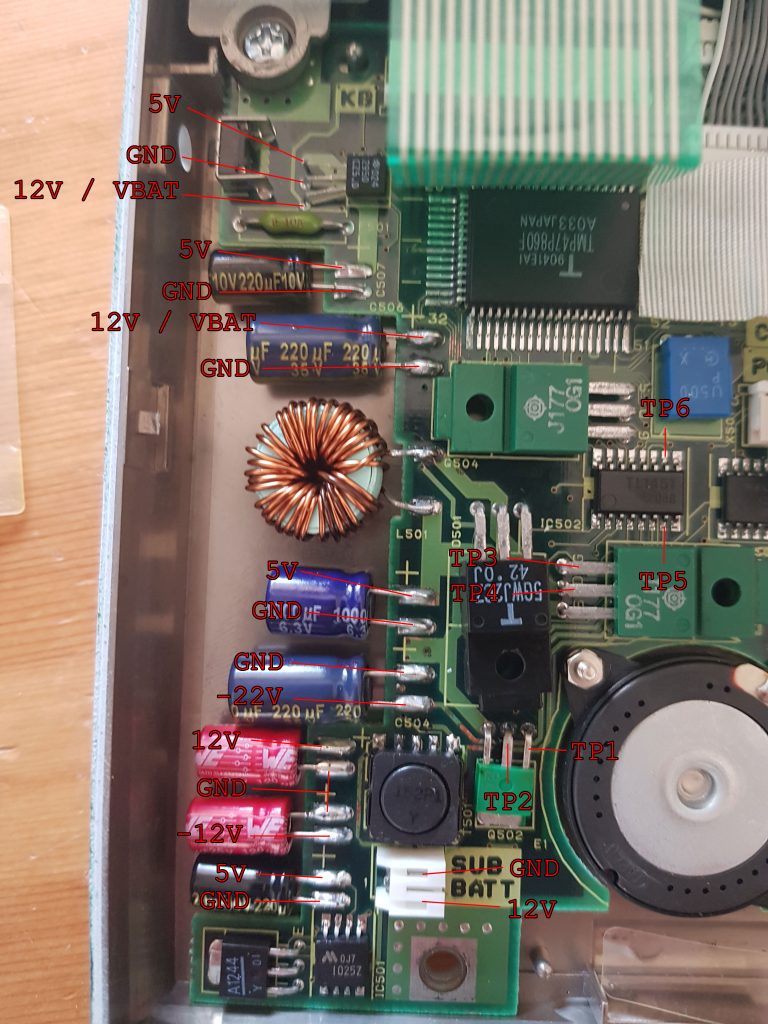 Now I own a third, working T1000LE it is time to do some testing, tracing and debugging on the other machines to once and for all fix the PSU
This machine will not power up. The NiCd 7.2V pack is totally dead. The internal SUB BATT, which appears to be 5 AAA 1.2V NiCd, is also dead.
There is a 3rd battery, which is a small 2 cell 2.4V NiCd. Unclear if it is also a goner.
There are 2 PCBs that need attention. The main board of course, and additionally the LCD PCB that mounts in the top cover.
The PSU is the initial culprit. Found several caps that were leaking, but very little damage to PCB that I can see.
The capacitors that were leaking were:
470/25V
47/16V
56/35V
120/16V
Here is a list of capacitors, and suggested replacements:
dimension inches
Main PCB
leaded electrolytic
qty designation value diam height lead spacing digikey part number brand
2 no markings 470/25V 0.4 0.85 0.2 B41888C5477M000 Epcos - TDK
1 C576 220/25V 0.4 0.55 0.2 860130475006 Wurth
2 C507 220/10V 0.25 0.5 0.1 860040273002 Wurth
1 C510 1200/16V 0.5 0.8 0.2 860010375018 Wurth
2 C512 C511 1800/10V 0.5 0.8 0.2 EEU-FS1A182B Panasonic
3 (4) C513 C514 C516 56/35V 0.25 0.5 0.1 860040573003 Wurth
1 C180 47/16V 0.25 0.2 0.1 ECE-A1CKS470 Panasonic

LCD PCB
qty designation value diam height lead spacing digikey part number brand
1 (0) C804 56/35V 0.25 0.5 0.1 860040573003 Wurth
1 C803 120/16V 0.25 0.5 0.1 860160373012 Wurth
2 C802 C801 10/25V 0.2 0.2 0.1 ECE-A1EKS100I Panasonic
The HDD in my case is a JVC JDE2825P.
I was able to mount this in an old PC, format it and install MSDOS 3.3.
This drive is compatible with the Connor CP2024 and also CP2124, so I think that means it is an IDE drive.
Nothing proprietary that I can see.
So, hoping that I will only need to recap this board to get it working.
I have read that this machine may or may not require a working battery to boot up; once I get the new caps in place, I will see what progress I can make.
To replace the NiCd main battery pack, I have kluged into place 6xAA NiMh cells. I have also kluged 5xAA NiMh cells in place of the SUB BATT. I'll probably replace the 2x nicd cells with a similar 2xnimh cell.
Once I get it booting I will selectively eliminate batteries to see the effect.
I really don't know the function of the SUB BATT.
Anyhow, I'll see what I can do with this machine.