Hi,
As some of you may know, I'm about ready to attempt to make a cable to connect a Vector Graphic keyboard (from a VG terminal) directly to a Vector Graphic Flashwriter II S100 card. Ultimately I want to use this in my IMSAI.
I have drawn up the connections I need to make as I wanted to be sure I didn't make any mistakes, but I am unsure wether I need to wire up the -12V line.
The manual for the Flashwriter II says that the -12V line is optional, but the manual showing the schematic for the Vector Graphic terminal shows the -12V line hooked up to the keyboard.
If anyone has any thoughts on how I should go about this I'd love to hear from you.
Thanks
Phil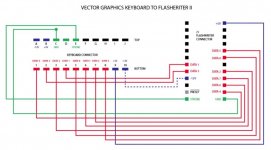 Last edited: