Joined

Oct 22, 2008
Messages

7,244
Location
About ten years ago now I remember being in a pawn shop when they still took in a lot of junk but one thing I remember to this day was a GPS unit that was branded by Sony. It seemed really odd for me at the time that a company who made game consoles and A/V stuff would make a GPS receiver. I might of even searched it up back then but this was still a time when most results on Google were pretty hit and miss and Image Search was still extremely new, so I don't think I ever found anything.
For the next few years I find more oddball things from Sony like a PCMCIA GPS card and finally a little device that took an AA cell and logged wherever it went. I found a handy tool that let me overlay my tracks on Google Earth. Anyways, one day I found an image of the
"Are You Cyberpunk?"
poster and noticed he had a Sony GPS which it described as the Pyxis. That refreshed my memory about the one I had seen years earlier only that one looked different. After some additional google searching things began to come together.
In the early 90's Sony released two consumer GPS units. They were in the elite group of original handhelds that were available for commercial use but suffered from the three satellite limitation. To my suprise, both models could be easily found on ebay. For less than $60 I was now the owner of both the basic IPS-360 and the advanced IPS-760.
While both arrived and looked relatively good, neither worked. :/
The 760 did absolutely nothing but draw a few mA of power when turned on. The 360 turned on but with no screen, a single LED and a very sick sounding beep. I had remembered for the 360 that someone found the dead screen was a capacitor in need of repalcement. That was enough of a ringer to make me feel like I should inspect under the hood.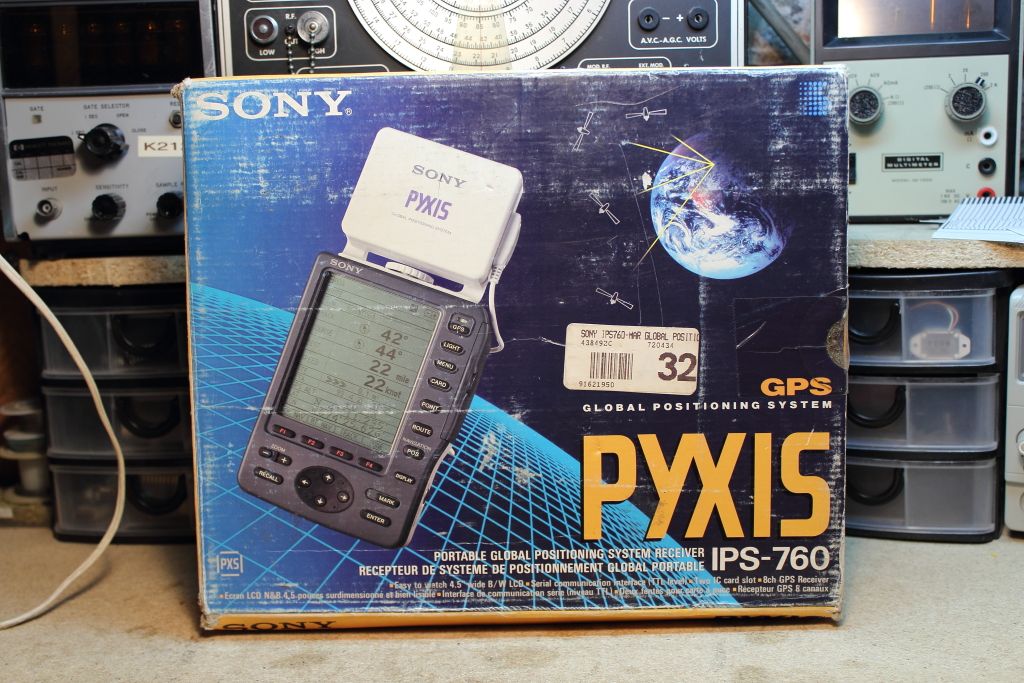 I got a hell of a deal on the 760. It was AS-IS but it was in the box. The seller had several units like this. Turns out it wasn't just in the box, it was new. Documentation, sholder strap, cables and of course the GPS which was spotless. Looked like it had never been used. Even the
funky little tools that Sony made for unlatching the battery tray
were still in the box.
Unfortunately it wasn't PERFECTLY complete and I guess this is why it was AS-IS. For some bizarre reason, each unit was missing the AA battery tray, the 6v AC adapter, and while all the paperwork and even the plastic sleeve for the C-MAP cartridge was included, the cartridge was missing.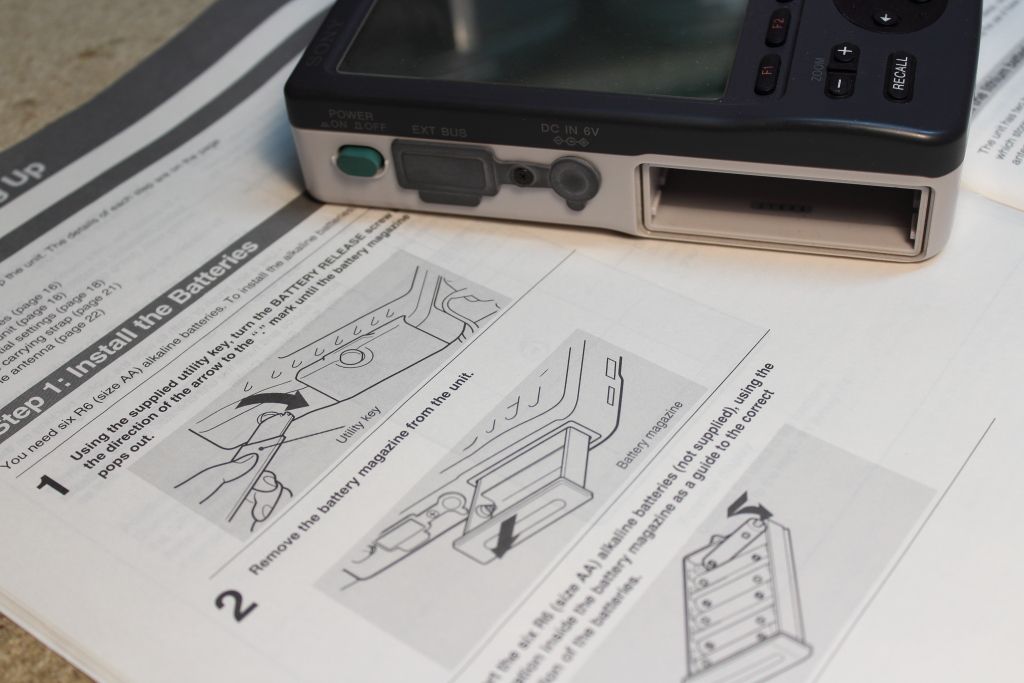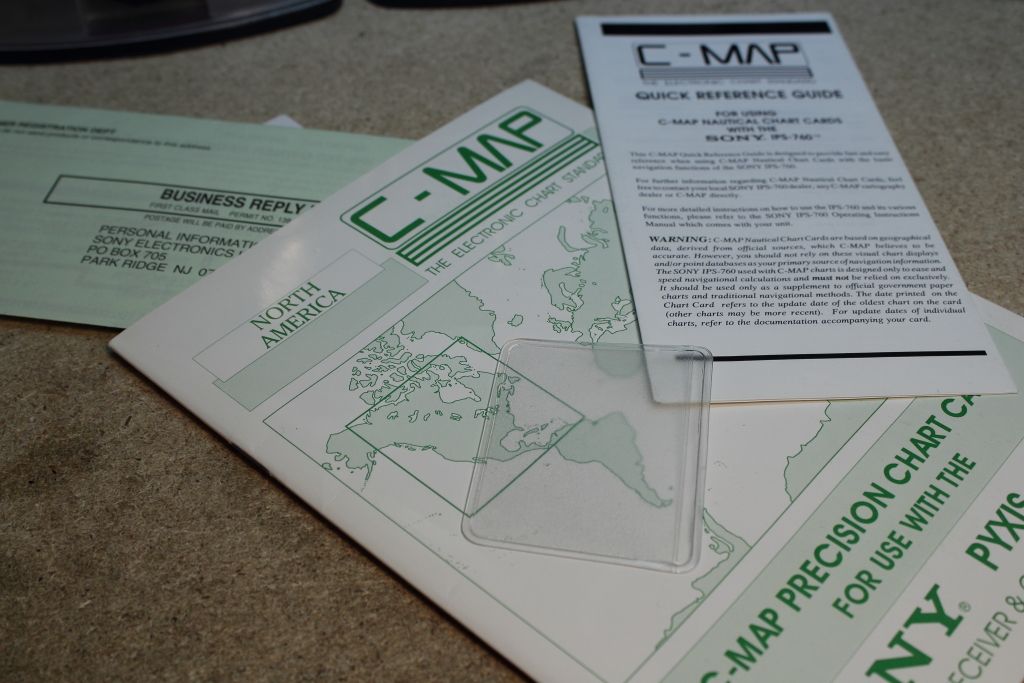 I can work without the adapter or battery tray because I can substitute but without that card I had no maps. The unit would operate as a basic GPS. C-MAP is still around but all their products cater to boating and use more modern interface standards with security methods rivalling that of Garmin. Apparently though the cartridges themselves were called the CF-85.
So anyways, the antenna is detachable. Remove two screws, unplug the gasketed connector and twist a knob. I have an extension cord for this so I could mount the antenna a distance from the unit.
Open the card cover on the side, remove the screws on the back and the front comes clean off. There are an amazing amount of gaskets on this. Forget weatherproof. I take it Sony was going for waterproof. Disconnect several ribbon cables for the screen, unplug the backup battery, speaker and battery, remove four screws and you can remove the PCB from he enclosure.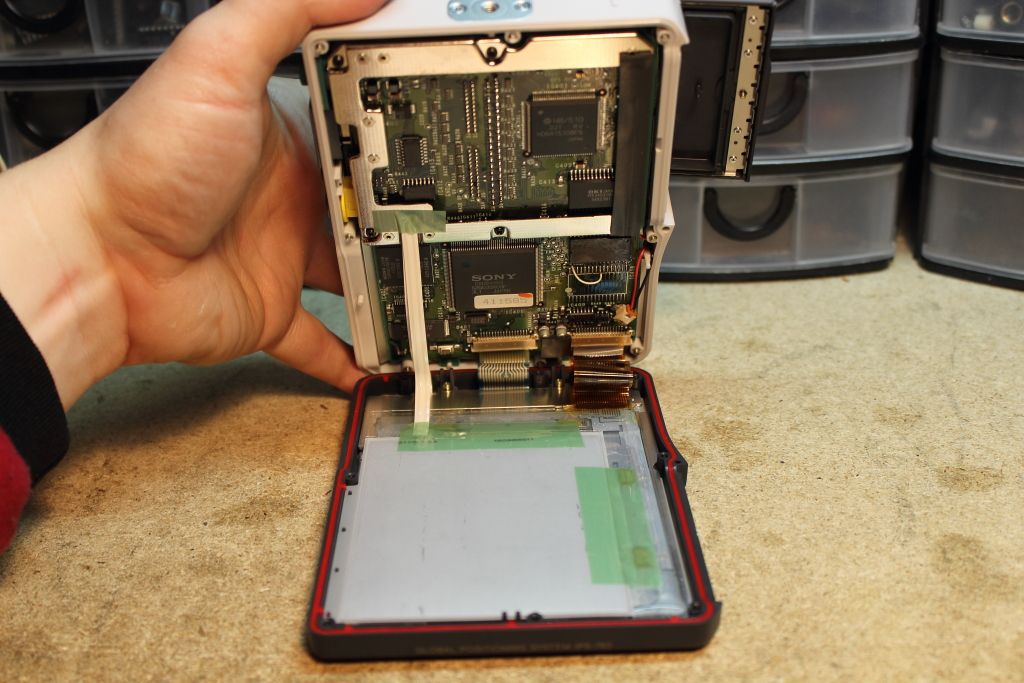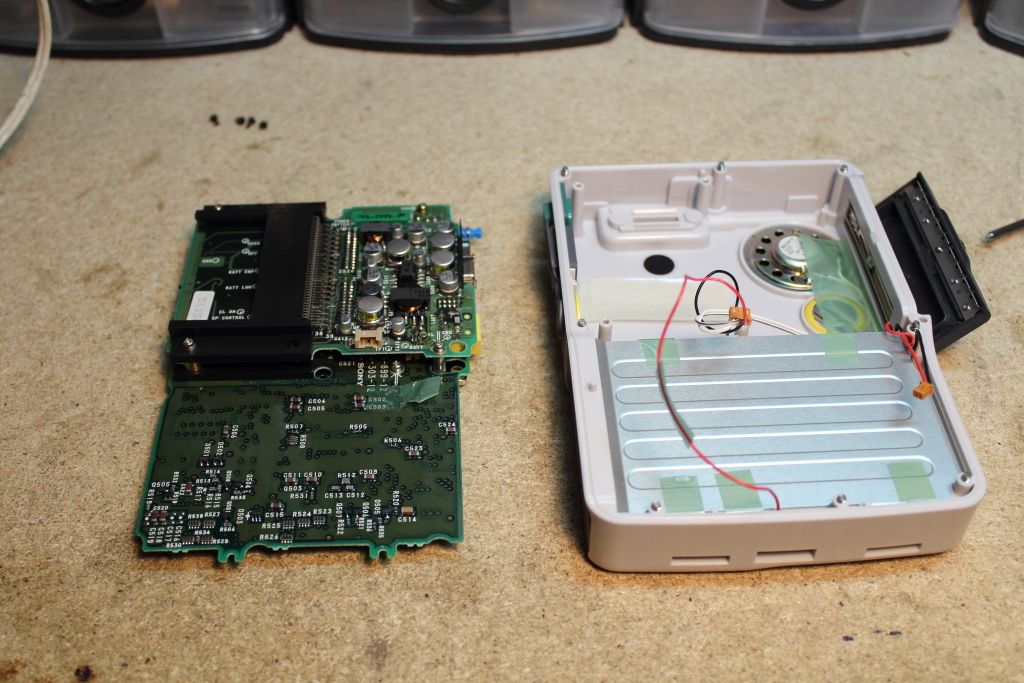 Well there is our problem. Looks like the power supply relies heavily on those pesky surface mount caps that everyone is replacing now. This is looking to become a hell of a job. Also, note how all the test points are cleanly marked in the card slot. I'm assuming you could field test with some sort of adapter that slid in and connected to each pad. It would save you from opening the unit up.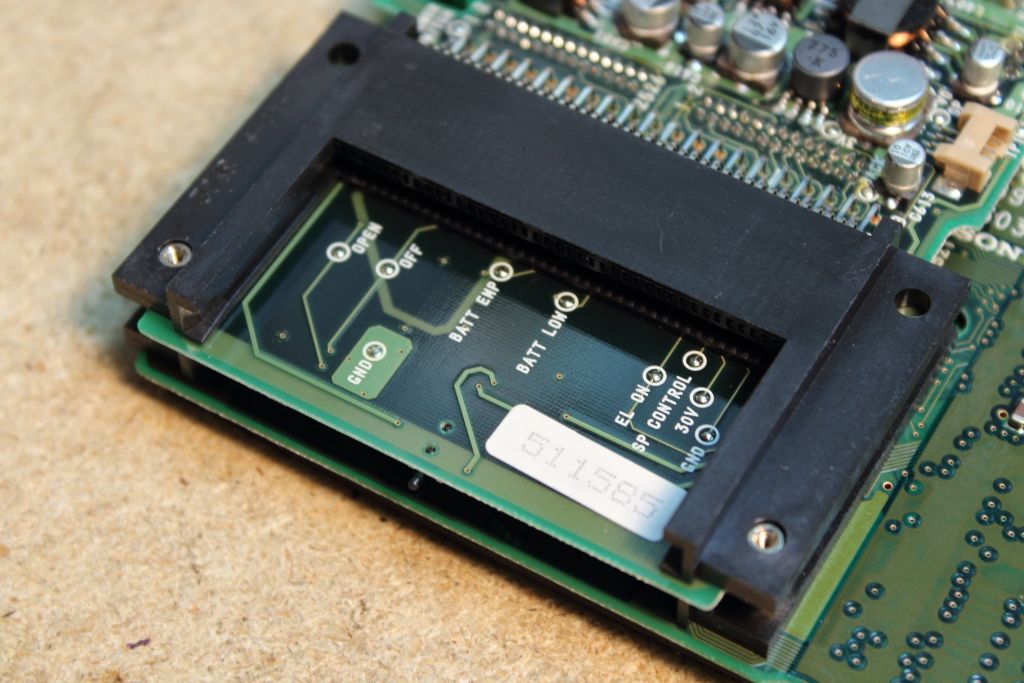 After noting down all the cap values I reassembled and closed the main unit back up. Now I had to see what was in the antenna.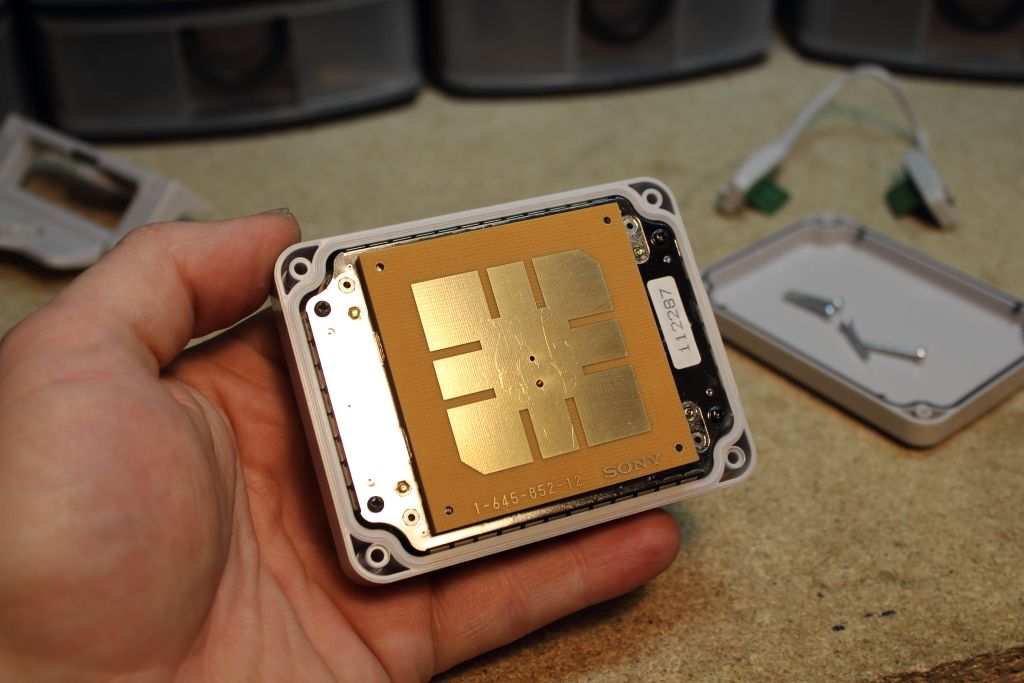 No suprise, there was the biggest patch antenna I have ever seen. Also, look at that shielding. The whole backside of the case is aluminumized so there wasn't any RFI going where it didn't need to. Again, it's all wonderfully gasketed.
Behind the antenna was two PCB's. Again, more caps and another backup battery. I'm quite amazed that both batteries I have seen so far are still healthy. I would of expected them to die years ago.
So now that I've gone over the entire unit, here is the parts list:
Code:
Sony Pyxis IPS-760

4 x 50v 3.3uf
6 x 16v 47uf
5 x 16v 10uf
2 x 6.3v 220uf
2 x 10v 150uf
1 x 50v 33uf
5 x 6v 33uf
2 x 4v 46uf
2 x 6v 47uf
1 x 4v 100uf
1 x 6v 100uf
Some of those values seem a bit....weird. I'm sure I can find substitutes.