Joined

Mar 15, 2010
Messages

123
Location
There is a thrift store not too far from me where me that have yielded some good furniture and goodies for the house. But as I discovered like many other thrift stores..computers are NOT allowed to be sold. I don't particularly agree with that policy but what can I do? There ARE some other thrift stores that just pull the Hard Drive and sell the system as is. But anyway, they DO sell the accessories.
And in this case, you NEVER know what might float to the surface as you are perusing the shelves of old keyboards and mice. And I was poking about, I see a video card in an anti-static bag. I figure it's some recent PCI cheapo. I remove the bag and its a: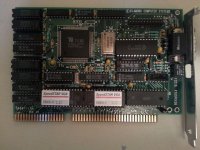 Diamond Speedstar VGA!! Kind of a rare find!!! It's just so funny what people will drop off here! I have been wanting a speedstar for a while. The Tseng ET4000 chip is quite good for retro gaming. I also found and old beat up cdrom drive but it had the old type drive rails attached with some flush-head screws that I have been looking for. I walk up to the register as casually as I could. I say "Well, there are no prices on these" He says: "Well, how about a dollar for each?" I say.."Ok. sounds good to me!"
I get the card home and plug it in to my Tandy 2500. It works Perfect!! Like I said..you just NEVER KNOW what you'll get!!