Joined

Apr 21, 2011
Messages

986
Location
Finally got one of these after years of wanting one. I've pretty much wanted one of these since I started collecting.
It's the classic Zenith ZFL-181, which was released in 1986 and competed directly with the IBM PC Convertible. This particular one is the -93 variant, made in 1987, so it has a 4.77/8Mhz switchable-speed 80C88 CPU and slightly different port arrangement than the original -92 variant.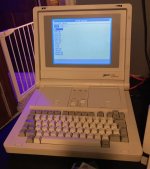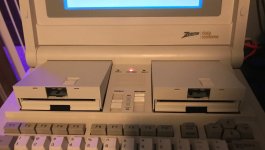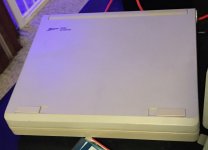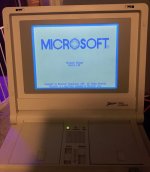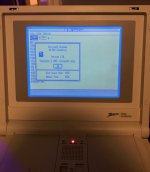 Of course, I have already crammed Windows 1.01 onto some 720KB disks to run on it! Runs just fine on here. Can even launch DOS apps from within Windows just fine.
For the OS I'm running the original Zenith MS-DOS 3.2, which I found the image of on Winworld.
The most unique feature about this laptop is the "pup-up" 3.5" floppy drives. They look so cool! The are not belt-driven either, so they are pretty robust.
The battery mine came with is stone-dead, and makes the side of the machine get EXTREMELY hot! This must be why the side of these gets melted sometimes. I have unplugged the battery and left it in the unit. I would recommend anyone else that has one of these with a dead battery to do the same, as a melted case is no fun, and it could be a potential fire hazard if it was left plugged in unattended. I may rebuild my pack at some point.
It's also worth mentioning that these came with the full 640KB of RAM from the factory, unlike the convertible and others that typically had 128 or 256KB, which is practically useless in my opinion. My absolute bare-minimum for a PC is 512KB, as I actually like to use my PCs, not just sit them on a shelf.
So, what are my thoughts on it? It's kick-ass! It has a nice blue, 10", CGA compatible display, great feeling keyboard (layout is slightly non-standard, but you adjust to it fairly quickly; at least I do). It has cool pop-up disk drives and is an overall nice looking and very functional XT-class laptop.
I would highly recommend this machine to anyone looking for a nice, early dual-floppy laptop. It's a bit more practical than some of the other early laptops in my opinion, and has everything you need to use it built-in. They also aren't worth much at all, so they aren't hard to get.
I've found Zenith laptops to be some of the more robust and reliable vintage laptops, and overall I'm a big fan of them. I've had a SuperSport 8088 for 5-years now, and it's never given me any trouble. Even the funky Alps 20MB hard drive still works perfectly. Perhaps that'll be the next one I review.
I give it a 10 out of 10 once again. I don't really see any problems with its design. Definitely one of my favorites now. Next one I want to find is the ZWL-183, which looks very similar, but it slightly larger, and has a built-in 10MB hard drive.
Happy computing!