Joined

Apr 21, 2011
Messages

859
Location
I finally got me a Zenith ZWL-183 laptop, the -93 variant to be exact, so it has a 20MB hard drive versus the 10MB the -92 has.
Here was how it look when I first got it out of the box: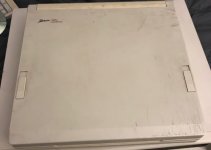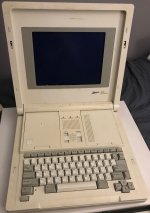 Pretty dirty. You can also see my other new toy sitting under it that I will be making a thread about very soon.
When I fired it up, I was greeted with this: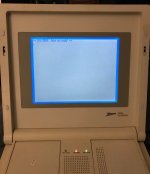 Seems to be a VERY common issue with these. I figured the JVC 26-pic hard drive probably had stiction, which it did.
Here is the drive liberated from the Zenith: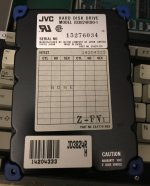 Heavy as hell! I really can't believe how much this little drive weighs.
So, I got it unstuck, but it wouldn't spin-up when you first powered the computer on, you had to do a ctrl+alt+delete and then it would spin up, weird! It would just spin right back down though, and I would get the drive error again. I spent several hours on it and couldn't figure it out, so right before I went to sleep I was reading a thread on here from someone that had one, saying that the hard drive worked fin until the battery died.
Well, I wasn't going to be able to sleep knowing that, so I got up, connected an ATX PSU to the battery terminals, plugged in the Zenith power supply, and the damn thing booted right up! It was at a prompt that said "Enter Password Attempt 1" or something like that, so I felt pretty good about that and went on to bed.
Today, I decided to make a small and entirely reversible modification to the little power board inside of the laptop. I discovered that removing the little choke coil from that board takes the DC barrel jack completely out of circuit, so I pulled that out, and then just ran wires from the jack straight to the positive and negative points for the battery, allowing me to plug my 12V 2.2A power supply into the side of the machine like normal! No more "low power" light and the hard drive now works as it should! I also wired it for the more traditional center-positive, rather than center-negative like this laptop originally was.
Someday, I will build a proper battery for and probably reverse this, but for now it's working great.
So, if you have one of these and think the HDD is toast, it may not be! It could simply be that the unit isn't getting enough power.
I have found that when it sits for a while the drive does get stuck again sometimes, but I found a firm, flat-handed "smack" over the drive seems to always get it going again! :D Thankfully, the stiction this drive has seems to be pretty mild, for now at least.
I also was having issues with the disk getting stuck in the floppy drive, so I pulled it out and found the offending part of the mechanism, oiled it, and it's working great now! Ejects disks very smoothly. First time I have had that issue on a PC. It's usually Macs that have that problem. Bit of a pain getting the two springs for the pop-up assembly on and off, but it's doable. They're really strong springs.
Here it is all back together and working: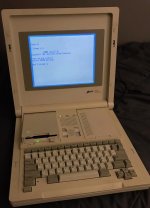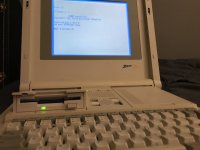 Sure is a cool laptop. VERY big too! Love the way this JVC hard drive sounds also. I was able to get around the "password" thing by just removing a command from the autoexec.bat.
Still has the original Zenith MS-DOS 3.21 on it! I have already backed that up, along with some other stuff. I will probably format the drive and start fresh with it.
I also found something really funny on this hard drive I will share a little later.
More to come!
Last edited: