Joined

Jul 27, 2008
Messages

1,164
Location
For those that haven't seen a flippie before, here's a photo of a manufactured 8" flippie disk.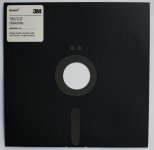 Note the label:
Single head, double side,
Soft sector, single density

It had me stumped when I first read it – single head but double side? Huh?

Before double sided drives became popular, flippies were used to double the capacity of the disk.
Both sides of the disk were good, so an extra index hole was punched allowing you to use both sides by flipping them over.

In case you notice the lack of a write protect notch:
Unlike a 5 ¼" disk where you need to cover a notch with a piece of tape to write protect it, it's the opposite with something like an 8"Shugart 800 drive.
This disk does not have a notch, so it is not write protected – if you want to write protect this disk, you need to cut a notch in the disk.

The flippie is ideal for my Altos 8000, as on their early models Altos mounted the drives upside down (there were apparently no standards on how to mount the drives back then), so I have to insert the disk label side down (the opposite of most drives) and it's easy to forget that. Now I can make both sides bootable, and I won't have to worry about which side goes up or down.

(I wonder how long it'll take GanjaTron to ask if he can get one of these disks for his Altos).