Joined

Jul 26, 2020
Messages

298
<I'm somewhat confused by your results: You have a VGA (PVGA1A chipset) card installed, connect to a VGA monitor, but you're only able to init and see CGA modes? What happens when you run a program that supports 256-color VGA graphics?>
First, thank you for responding; I have two programs, one is the MSD tool which is the Microsoft Diagnostic Version 3, program that checks everything and gives you a synopsis of what it found. For the video card, the MSD states the video card is a CGA card as seen by IMG_3084 (62872). In addition, I have a program that I believe was written in the early 1990s by WizardWare. The set of programs consists of 12-360 KB floppies to display VGA responses on the screen. For example, Mandelbrot & Julia Set Generator is the first diskette. The response is, when triggered, Out of Range and freezes the machine. These two tests are telling me the card is not VGA or configured as such. On the other hand, if I run Xtree Gold for more than 25 rows; the card will handle that successfully.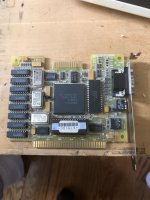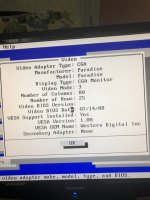 A picture of the card would help identify it. Attached is image IMG_3059 ( 62871), which shows the 8-bit VGA card written in the inquiry.
The assembly code does give a response of the lower-res showing "Program terminated normally." No address as was shown in your example, however.
So your saying that neighbor the config or the executable will do anything for me. So what can be done to get VGA or do I already have VGA and don't realize it?