Joined

Jan 27, 2016
Messages

232
Location
Well, this is something I have been struggling with for almost four years! The history starts in 2014 when I was given a PDP-9 computer. Almost immediately I realized that the paper tapes and magnetic tapes must be preserved. I also realized that I had a long way to go if I would use the PDP-9 computer to do that.
The paper tapes are secured since 2015:
http://www.bitsavers.org/bits/DEC/pdp9/papertapeImages/Sandahl_PDP9_Tape_Collection/
The DEC tapes has not yet been preserved.
So first I started a collaboration with Mattis Lind on a standalone
TU55 tapecontroller
, this never worked. I had one single G888 board and a couple of TU55's to work with. I got really frustrated, but realized that if I only got a working setup I would have a better chans to succeed.
Then I decided to change the way forward and I built a clone of the
G888
with modern components that is easy to find. This since the G888 is the key, it takes small signals from the read/write head and produces a digital pulses. It will also do the other way around to write data on the tape. It takes five G888 in one tapecontroller since there are five logical tracks on the tape (and ten physical). Got the first prototype built and compared it with the G888 that I got and it looked promising. Then Mattis got a tape controller TC11 and a TU56 going with this PDP11/04?. He tested my prototype, it worked somehow but didn't pass the maindec's.
Then I got a chance to borrow a TD8E and a
TU56 drive in unknown condition
that I got to work. After some time I started to think about those boards again and tested around a bit. I realized that the board actually could read tapes and the maindec's passed the tests when the board sat in a position where only the read circuitry was exercised (mark and timing track). After measuring on the writing circuitry it was just an easy patch to get it to work.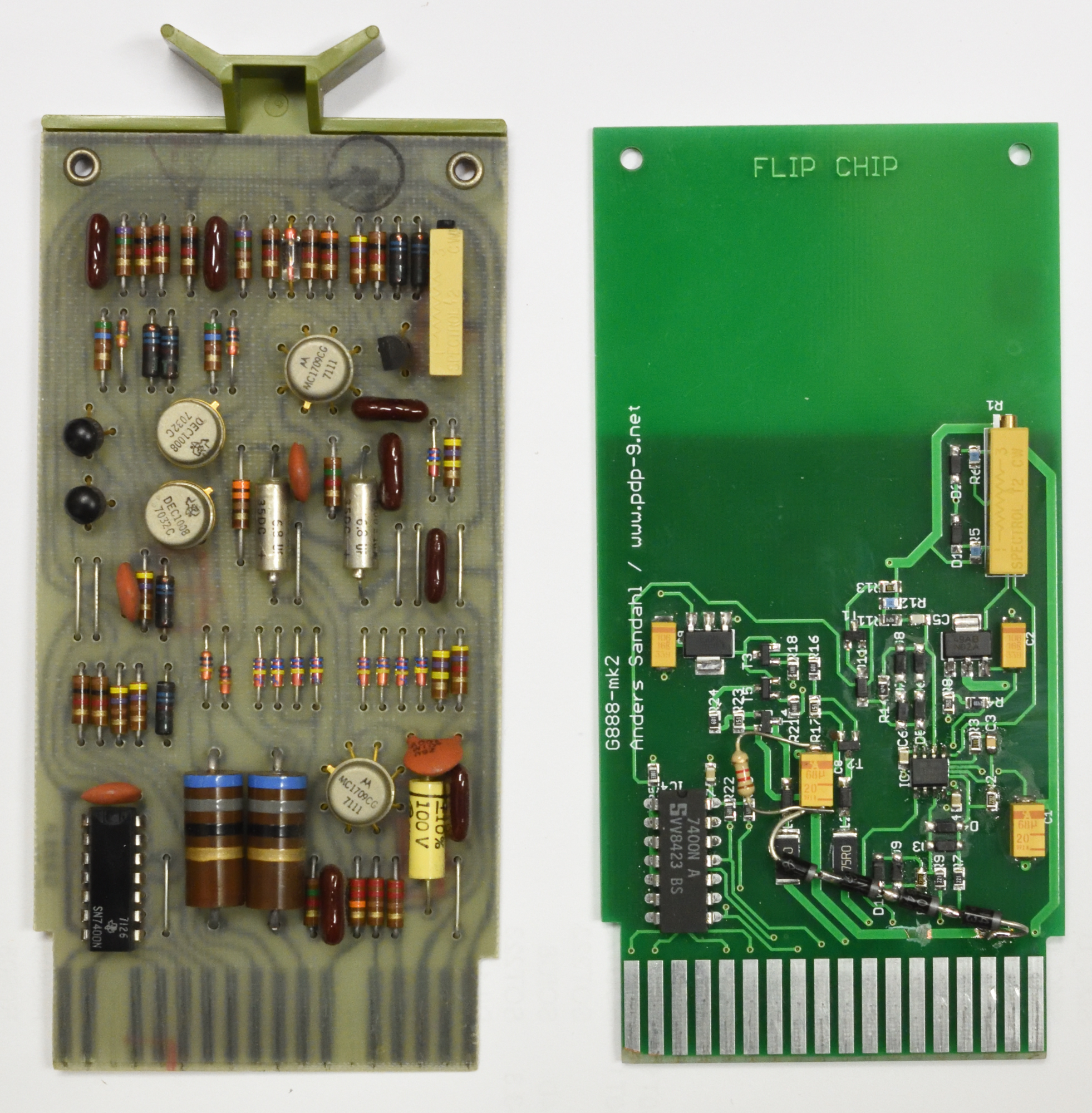 Now it passes the
TD8E maindec
! But I have still some work to do to get the tapes preserved...
I wish I had my own TD8E, because then I could hook up my own TU55 to my PDP-8... Well a TU56 would also be a nice find.