Joined

Mar 24, 2011
Messages

1,325
Location
I really hate to power down and power up my 5160 if
some sort of software hangs and the machine refuses to
listen to my CTRL-ALT-DEL command....
Why is there no reset button on an IBM PC XT?
Well let's make one on the computer. I have misused the
power good signal from the power supply. This signal is
pulled low at power up. This is to let the power stabilize first.
At power failures the PG signal is also pulled low to keep the
machine in reset. The 8284 handles the reset lines for the rest of the machine.
I've placed a momentary (NO) switch between the GND and PG. For safety (current limiting)
I've also put also a 100R resistor in series with the switch. (But it should not be necessary)
To prevent damage I've put the switch outside the case.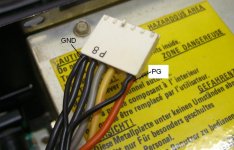 So now I can give the IBM a hard reset any time I want.
Regards, Roland