Last year I got lucky and came across an Altair 8800 (or what remained and was scattered of one) for sale in a nearby suburb. I did not know much about S-100 architecture at the time of purchase, but I knew the following: This computer did not have the original PSU, Bus, CPU, RAM or IO installed. It had a modified/custom PSU which was not output compatible with S-100. It had a custom bus which was not physical or signal-compatible with S-100. It had hand-wired and custom designed CPU and RAM cards for this bus. The front panel was quite modified and would not work with S-100.
Here was my luck, because despite all that, I was able to dig through the boxes from the estate and pull out the following:
Original PSU board
Original PSU transformers
Original MITS bus
Original MITS bus extender (never installed)
Original documentation
I also found the following cards in the boxes:
MITS 8800 CPU rev 0
MITS 4k Dynamic RAM (x2)
MITS 88-SIOA
TDL ZPU (modified)
TDL Z16 (modified)
TDL SMB (heavily modified - almost unusable)
GM Multi IO
A few 64k ram cards
Tarbell tape controller
What good fortune to have all of these parts!! I knew I had work ahead of me but had no idea how much. I can only attach 5 pictures per post so I'll start in and there will be many posts.
Here is my new purchase in the trunk ready to head home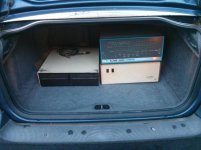 I am dying to see all of this stuff working again as it sits on my table, lifeless.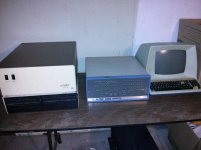 Here's the original MITS bus w/CPU, RAM and IO cards still attached (as well as a mod to segue to the other custom bus)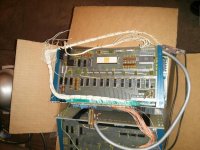 Original Manual in binder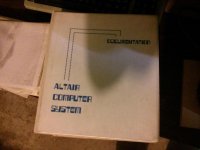 And many zines from the era (which are loaded with good info and none of them appear to be online right now so maybe I can start scanning at some point if anyone wants them)