Joined

Oct 24, 2023
Messages

33
The more I think about it, the more I think IC110 is the culprit for your error message.

Can you remove the 3 jumpers (Link 1, 2,3) so that the normal hardware tests are done. Pin 2 of IC110 should go high just before you get the error message, what happens on both Pins 1 and 3 of the same IC110?

I'm guessing the interrupt high is not making it's way through this IC?
Many thanks all for your continued help with this. I think we may have solved this (hopefully).
I think you are right
@austfox
about IC110 being the culprit - but perhaps it's indirectly the culprit!
Pin 2 of IC110 starts LOW and goes HIGH before the error message.
Pin 3 starts HIGH and stays HIGH.
Pin 1 goes HIGH to LOW.
I assume Pin 3 (which is the IRQ6 signal) should be starting LOW and going HIGH to match the signal from pin 18 on IC112?
So IC110 could be faulty. However, I decided to check to see if IC110 (74LS125AN) was receiving a voltage at pin 14. It wasn't. Nearby R181 (a 5.6 Ohm resistor) is responsible for transferring the voltage from the 5V line. There is continuity between the resistor and pin 14 but there was no voltage. On the other side of R181 was a steady 5V.
Surely R181 is the culprit.
I suppose IC110 could also be faulty, but perhaps not.
I'll replace R181 and report back. I'm pretty sure it's a 5.6 ohm resistor but I'm not sure what the (F) in a circle means underneath (image from the circuit diagram below and also an image of the actual resistor; it doesn't look too healthy tbh).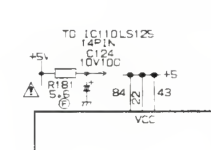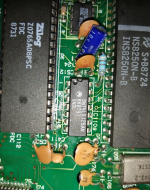 Last edited: